WANTS LIST (This is what I am looking for !) I´ll trade if you have anything interesting. I´ve got approximately 190 hours, which is about 8 days worth of stuff and then I haven´t counted a film twice if I have two copies of it and not TV shows that Hitchcock has not directed. I have an Excel-file with more details about my wants that I can mail all those interested. FILMS for the silver screen FILMS for television Various stuff for TV and video Various stuff for Radio Books FILMS for the silver screen There is only one film that I don´t have since I got hold of Downhill and Waltzes From Vienna. That is The Mountain Eagle (1926) 1 THE PLEASURE GARDEN 1925 Looking for the colour-tinted version. Have got copy from showing on swedish TV3 (1991). 2 THE MOUNTAIN EAGLE 1926 Only has 31 stills from the excellent article by J. L. Kuhns as published in Hitchcock Annual 1998-99. The book "Hitchcock" by Francois Truffaut shows 6 of these and the following still is also included in the book "Hitchcock: hans liv og film" by Christian Braad Thomsens.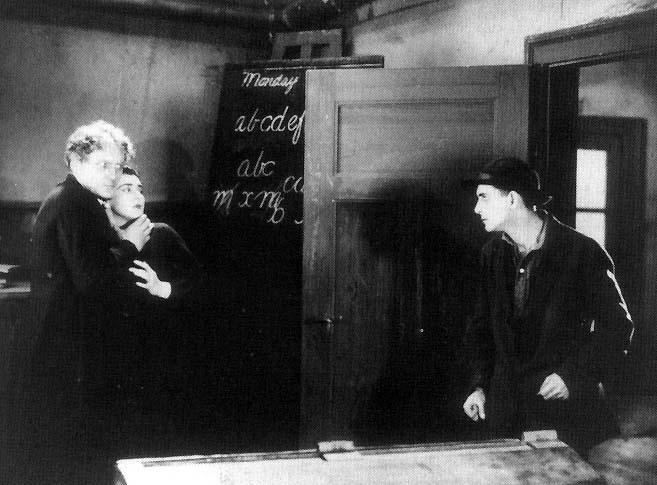 4 DOWNHILL 1927 Looking for a print with music track. 12 MURDER 1930 Looking for the german version entitled "Mary" also directed by Alfred Hitchcock. 16 WALTZES FROM VIENNA 1933 Looking for an original tape of the french dubbed PolyGram Video release "Le chant du Danube" even though it's only 53 minutes out of the 80 minutes it is supposed to be. Have got a copy of it. 27 SUSPICION 1941 Looking for the computer colored version. 30 LIFEBOAT 1944 Looking for the theatrical trailer, if it exists. 31 SPELLBOUND 1945 Looking for the trailer with gun-shot in colour. 33 THE PARADINE CASE 1947 Looking for the 16 min cut from first version. 36 STAGE FRIGHT 1950 Looking for the trailer, in english and not french as the one I have. 38 I CONFESS 1953 Looking for the trailer, in english and not french as the one I have. 39 DIAL M FOR MURDER 1954 Have got a 3-D copy but the 3-D information is lost Looking for a wide-screen print (if there is one) ? 44 THE WRONG MAN 1957 Looking for a wide-screen print. I have found the Soundstage release of the Soundtrack (1997) at Footlight. 47 PSYCHO 1960 Looking for the Special Edition Laser Disc that came out in May 1998. 50 TORN CURTAIN 1966 Looking for the german version that supposedly is 7 minutes longer and a wide-screen print. I have found The Silva release of the Soundtrack (1995) at Intrada and also the unused score by Bernard Herrmann released by Varese (1998). 51 TOPAZ 1969 Looking for a wide-screen print with good sound. 52 FRENZY 1972 Have Corpse-In-The-Thames trailer also in german version with interview. FILMS for television There is not any Hitchcock directed TV film that I don´t have since I got hold of Wet Saturday (1956) and Arthur (1959). Looking for Hitchcock presentations for shows he didn't direct as well. Have got all 268 AH Presents and all 93 of The AH Hour. From the remake series I have all 80. Dont have all the presentations complete though. Alfred Hitchcock Presents Shows that I have but only with Presentation or Afterword Alfred Hitchcock Presents The show that I don´t have The Alfred Hitchcock Hour Suspicion Alfred Hitchcock Presents New Series from 1985 ALFRED HITCHCOCK directed shows Nr. Broadcast Original Title 4 4/mar/56 BACK FOR CHRISTMAS Looking for the laserdisc "The Best of Alfred Hitchcock Presents Volume One" (1986). 6 23/dec/56 MR. BLANCHARD'S SECRET Looking for the Japanese laserdisc where it is included 7 7/apr/57 ONE MORE MILE TO GO Looking for an original print in excellent condition 12 5/oct/58 POISON Looking for an original print in excellent condition ALFRED HITCHCOCK PRESENTS Shows that I have complete but only with Presentation or Afterword not both (C=complete, nA=no afterword, nP=no presentation, cA=cut afterword, stands for what I´ve got) Nr. Original Title Director Starring Starring prop Broadcast 252 Profit-Sharing Plan C mA Bernard Girard Henry Jones Ruth Storey big cake, hat, umbrella 13/mar/62 134 Total Loss C rA Don Taylor Nancy Olson Ralph Meeker steamcabinet 1/feb/59 ALFRED HITCHCOCK PRESENTS Shows that I don´t have Nr. Original Title Director Starring Starring Broadcast ??? Pearl Weeps, A Don Weis Hazel Court Ernest Truex This title might be a re-run title for The Pearl Necklace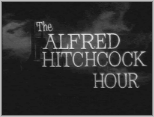 THE ALFRED HITCHCOCK HOUR I have all 93 of Hitchcock's presentations and afterwords but I am looking for Hitchcock's middle announcements of which I have 74, I'm missing 19. See list of episodes, I'm missing middle announcements for those marked C or PA. I have tape tangle on "Forecast: Low Clouds and Coastal Fog". Nr. Original Title Director Starring Starring Prop. Broadcast 17 Forecast: Low Clouds and ... Charles Haas Inger Stevens Dan O'Herlihy surf/ironing-board 18/jan/63 SUSPICION Have 21 episodes of the series. Only one is directed by Hitchcock, the premiere episode Four O'Clock. But another 9 episodes of these were produced by Hitchcock. Looking for the rest of the series. These are the episodes that I am looking for: Nr. Original Title Director Starring Producer Broadcast Re-run 2 Murder Me Gently Don Medford Jessica Tandy 7/oct/57 4 Hand in Glove Jack Smight Burgess Meredith 21/oct/57 6 Diary for Death Perry Lafferty Macdonald Carey 4/nov/57 8 Sparkle of Diamonds,The Jack Smight Margaret Leighton 18/nov/57 11 Deadly Game, The Don Medford Boris Karloff 9/dec/57 13 Dark Stairway, The Don Medford Phyllis Thaxter 23/dec/57 14 Someone Is After Me David Greene Patricia Neal 6/jan/58 16 End in Violence Paul Bogart John Ireland 20/jan/58 20 If I Die Before I Live Perry Lafferty Edith Adams 24/feb/58 21 Hollow Man, The Elliot Silverstein Dane Clark 3/mar/58 22 World Full of Strangers, A Don Medford Janice Rule 10/mar/58 24 Diagnosis: Death Don Medford Larry Parks 31/mar/58 26 Girl Upstairs, The Don Medford Denholm Elliott 14/apr/58 29 Woman with Red Hair,The William A. Graham Dennis O'Keefe 5/may/58 31 Velvet Vault, The David Greene Carmen Mathews 19/may/58 34 Man with the Gun, The Jack Smight Anthony Quayle 9/jun/58 37 Return from Darkness Herbert Kenwith Lorne Greene 30/jun/58 38 Devil Makes Three, The Donald Petrie Dennis O'Keefe 7/jul/58 39 Imposter, The Don Medford Kent Smith 14/jul/58 40 Death of Paul Dane, The Elliot Silverstein Eli Wallach 21/jul/58 ALFRED HITCHCOCK PRESENTS (New Series from 1985) Remakes of old shows of Alfred Hitchcock Presents and The Alfred Hitchcock Hour (and Suspicion) with Hitchcock´s original presentations in coloured version (PA=only presentation and afterword, nP=no presentation, nA=no afterword, stands for what I´ve got) Nr. Original Title Director Starring Starring Broadcast 27 Initiation, The PA Robert Iscove Marion Ross Peter Spence 24/jan/87 28 Conversation Over A Corpse PA Robert Iscove Barbara Babcock John Vernon 31/jan/87 29 Man On The Edge PA Robert Iscove Mark Hamill Michael Ironside 7/feb/87 30 If The Shoe Fits PA Allan King Ted Shackelford Lawrence Dane 14/feb/87 33 Impatient Patient, The PA Allan King E. G. Marshall Patricia Hamilton 7/mar/87 34 When This Man Dies PA Jim Purdy Adrian Zmed Brenda Bazinet 14/mar/87 37 Tragedy Tonight PA Sturla Gunnarsson Catherine Stewart Isabelle Mejias 4/apr/87 38 World's Oldest Motive PA Allan King Dwight Schultz Diane D´Aquila 11/apr/87 41 Animal Lovers PA Sturla Gunnarsson Susan Anton Ron White 13/feb/88 43 Stolen Heart, A PA Rene Bonniere William Katt Bernard Behrens 27/feb/88 44 Houdini On Channel 4 PA Timothy Bond Nick Lewin Carolyn Dunn 5/mar/88 45 Killer Takes All PA Allan King Van Johnson Rory Calhoun 12/mar/88 46 Hippocritic Oath PA Vic Sarin Shaun Cassidy Mavor Moore 19/mar/88 47 Prosecutor PA David Gelfand Parker Stevenson Lawrence Dane 26/mar/88 48 If Looks Could Kill PA William Fruet Michelle Phillips Duncan Regehr 23/apr/88 49 You'll Die Laughing PA Zale Dalen Anthony Newley Gary Blumsack 30/apr/88 50 Murder Party PA Allan King David McCallum Leigh Taylor-Young 7/maj/88 51 Twist PA Rene Bonniere Stella Stevens Clive Revill 14/maj/88 52 User Deadly PA Allan King Harry Guardino Geordie Johnson 21/maj/88 53 Career Move PA Timothy Bond David Cassidy Robert Wisden 28/maj/88 54 Full Disclosure PA Bill Corcoran Robert Lansing Al Waxman 18/jun/88 56 There Was A Little Girl ... PA Atom Egoyan Michael Tucker Kate Vernon 2/jul/88 57 Twisted Sisters PA Timothy Bond Mia Sara Carolyn Dunn 9/jul/88 58 13th Floor, The PA Mark Rosman Anthony Franciosa Laura Robinson 16/jul/88 60 Hunted (Part Two) PA Timothy Bond Edward Woodward Kate Trotter 6/aug/88 62 Pen Pal PA Rene Bonniere Jean Simmons Page Fletcher 15/okt/88 63 Ancient Voices PA William Corcoran Richard Anderson Doug McClure 12/nov/88 64 Survival Of The Fittest PA Allan King Patrick Macnee Nigel Bennett 19/nov/88 66 Don't Sell Yourself Short PA Rene Bonniere David Soul Harvey Atkin 14/jan/89 67 For Art's Sake PA William Corcoran Simon Williams Michele Scarabelli 21/jan/89 69 Mirror, Mirror PA Richard Lewis Elizabeth Ashley Robert Collins 4/feb/89 70 Skeleton In The Closet PA George Mendeluk Mimi Kuzyk Jeff Wincott 11/feb/89 72 Driving Under The Influence PA Bradley Silberling Mike Connors John Novak 25/feb/89 73 In The Name Of Science PA Zale Dalen Dirk Benedict Catherine Disher 11/mar/89 77 Night Creatures PA Richard J. Lewis Brett Cullen Louise Vallance 29/apr/89 79 Reunion PA John Wood Geraint Wyn Davies James Blendick 15/jul/89 Various stuff for TV and video HITCHCOCK TRAILERS (Video) Have got a copy, but are looking for the original tape from SF Rush Video. TV SHOWS Looking for The Dick Cavett Show (1972, 90 min), Tomorrow with Tom Snyder (1973, 60 min), Various stuff for Radio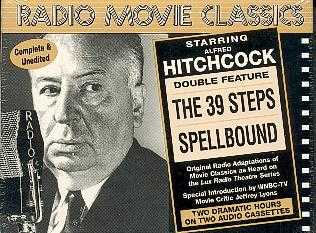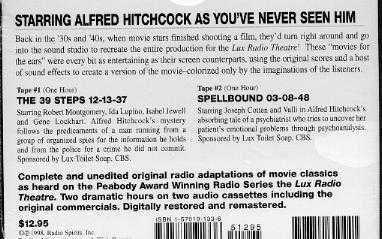 Looking for cassettes with radio broadcasts of Hitchcock's films, preferably directed by Hitchcock. Have got one doubletape with The 39 Steps starring Robert Montgomery and Ida Lupino and Spellbound starring Joseph Cotten and Valli from Lux Radio Theatre. Have hightlights on laserdisc from the Lux Radio Theatre broadcast of Notorious that aired January 26, 1948 and starred Ingrid Bergman and Joseph Cotten. Have got a copy of a tape with The Lodger. I also got a play called Malice Aforethought in two versions from "Once Upon a Midnight" on ABC and The Alfred Hitchcock Show. Also looking for the Radio spots for The Birds and Marnie and recordings for theatre lobbies for Psycho and The Birds. See Trailer section. Have got one 45 minute radio documentary with interview with Pat Hitchcock O´Connell called "God Evening" from Swedish Radio 1998 and one documentary with interviews with Hitchcock, called "Alltid Denne Hitchcock", from Swedish Radio 1997 in three 45 minute parts. Books Looking for the original stories to films by Alfred Hitchcock. HITCHCOCK ANNUAL Don´t have the 1999 publication by the Hitchcock Annual Corporation.