My Top 18 Thrill Rides (at the moment)
 1. Raptor			Cedar Point, Sandusky, USA		Info	Opened 1994
 2. Millennium Force		Cedar Point, Sandusky, USA		Info	Opened May 2000
 3. Batman The Ride		Six Flags Magic Mountain, Los Angeles	Info	Opened March 1994
 4. Riddler's Revenge		Six Flags Magic Mountain, Los Angeles	Info	Opened April 4, 1998


   


 5. X Scream			Stratosphere Tower, Las Vegas, USA	Info	Opened 2005


 


 6. Wipeout			Dreamworld, Surfers Paradise Australien Info
 7. Mantis			Cedar Point, Sandusky, USA		Info	Opened 1996
 8. Tower of Terror		Dreamworld, Surfers Paradise Australien Info
 9. Insanity-The Ride		Stratosphere Tower, Las Vegas, USA	Info	Opened 2006
10. Pepsi Max Big One Blackpool Pleasure Beach, England	Info	Opened 1994	72m hög, 140km/tim



11. Infusion          Blackpool Pleasure Beach, England	Info	Opened 2007	
12. Iron Dragon			Cedar Point, Sandusky, USA		Info	Opened 1987


   


13. Speed-The Ride		Sahara, Las Vegas, USA			Info	
14. Manhattan Express		New York New York, Las Vegas, USA	Info	



15. Back To The Future		Universal Studios Hollywood		Info
16. Revolution			Six Flags Magic Mountain, Los Angeles	Info	Opened May 1976
17. Big Shot			Stratosphere Tower, Las Vegas, USA	Info	
18. Bling             Blackpool Pleasure Beach, England	Info	Opened 2007	


  





Other great rides



   Shotover Jet		Queenstown, New Zealand
					Mount Faber Cable Car	Sentosa Park, Singapore




Top 5 - i Sverige



1. Extreme			Gröna Lund, Stockholm
2. Hang Over			Liseberg, Göteborg	Snarlik Invertigo	Dock såld till Grekland, OTROLIGT !!
3. Fritt Fall			Gröna Lund, Stockholm
4. Balder			Liseberg, Göteborg	Info		36m hög, 90km/tim, 1070m lång, 2.08 min
5. Uppskjutet			Liseberg, Göteborg	Info/Info




Top 10 - som jag vill åka (Coasters that I want to ride)



1. Tatsu	Six Flags Magic Mountain, Los Angeles	Info	May 13, 2006	52m hög, 100km/tim, 1096m lång, 3,5min



2. Stealth	Paramount's Great America, San Jose	Info	Opened 2000	35m hög, 82km/tim, 842m lång, 1.50 min
3. X		Six Flags Magic Mountain, Los Angeles	Info	Jan 12, 2002	61m hög, 122km/tim, 1099m lång
4. Deja-Vu	Six Flags Magic Mountain, Los Angeles	Info	Opened 2001	60m hög, 105km/tim, 366m lång


  


5. Top Thrill Dragster	Cedar Point, Sandusky, USA	Info	May 4, 2003	128m hög, 193km/tim, 852m lång, 1.50 min


 


6. Medusa	Six Flags Marine World, Vallejo		Info	Opened 2000	46m hög, 105km/tim, 1198m lång, 3.15 min



7. Oblivion	Alton Towers, Staffordshire, England	Info	Opened 1998	54m hög, 110km/tim, 300m lång
8. Steel Venom	Valleyfair!, Shakopee, Minnesota	Info	May 17, 2003	56m hög, 109km/tim, 791m lång
9. Wild Thing	Valleyfair!, Shakopee, Minnesota	Info	Opened May 1996	63m hög, 119km/tim, 1665m lång, 3 min



10. Top Gun	Paramount's Great America, San Jose	Info	March 20, 1993	29m hög, 80km/tim, 688m lång



10. Kanonen	Liseberg Göteborg, Sverige			Info	2006		




Links



Links, Themepark Guide, Themeparks.com, Thrill Ride, Pictures




Attraktioner som ej platsar på Top 10 (Rides not on Top 10)



Rating 4
Power Tower			Cedar Point
Valhalla                        Blackpool Pleasure Beach, England

Rating 3+
Magnum XL-200			Cedar Point
Gemini				Cedar Point
Disaster Transport		Cedar Point
Blue Streak			Cedar Point
Viper				Magic Mountain
Extreme				Gröna Lund
Hang Over			Liseberg
Fritt Fall			Gröna Lund	Opened 1998	80m hög
The Mighty Axe			The Park At Moa
Timberland Twister		The Park At Moa
Avalanche (1988)                Blackpool Pleasure Beach, England
Irn Bru Revolution              Blackpool Pleasure Beach, England
Grand National                  Blackpool Pleasure Beach, England
Steeplechase                    Blackpool Pleasure Beach, England
Ice Blast                       Blackpool Pleasure Beach, England

Rating 3
Thunderbolt			Dreamworld	Opened 1982	31m hög, 87km/tim
Eureka Mine Ride		Dreamworld
Mean Streak			Cedar Point
Wild Cat			Cedar Point
Corkscrew			Cedar Point
 Denna bild är dock från Valleyfair!
Flashback			Magic Mountain
Psyclone			Magic Mountain
Katapulten			Gröna Lund
Volten				Gröna Lund	Dessvärre nerplockad
Balder				Liseberg
Uppskjutet			Liseberg
Höjdskräcken			Liseberg
Treetop Tumbler			The Park At Moa
Pepsi Ripsaw			The Park At Moa
The Big Dipper (1921)           Blackpool Pleasure Beach, England
Roller Coaster                  Blackpool Pleasure Beach, England
Wild Mouse (1958)               Blackpool Pleasure Beach, England


Rating 2+
Cedar Creek Mine Ride		Cedar Point
Thunder River Rapids Ride	Dreamworld
Jet Line			Gröna Lund	Opened 1988	
Jet Star 3			Parken Zoo, Eskilstuna	18m hög, 85km/tim, 530m lång
Lisebergsbanan			Liseberg
Top Spin			Liseberg

Rating 2
Snake River Falls		Cedar Point
Thunder Canyon			Cedar Point
Woodstock Express		Cedar Point
Vilda Musen			Gröna Lund
Flygande Mattan			Gröna Lund
Vikingen			Gröna Lund
Take Off			Parken Zoo, Eskilstuna
Flume Ride			Liseberg
Spin Rock			Liseberg
Kulingen			Liseberg
Rainbow				Liseberg
Tornado				Liseberg
Kållerado			Liseberg










Raptor			42 meter hög, 92 km/tim, 1154 meter lång, 2.16 min

Inverted, d.v.s. att man hänger med spåret ovanför, och med fötterna fria.

Millennium Force	94 meter hög, 148 km/tim, 2007 meter lång, 2.20 min


Världens högsta och snabbaste berg- och dalbana. Första backen 94 meter hög och med 80 graders lutning. Helgrym.

Batman The Ride		32 meter hög, 80 km/tim, 822 meter lång

Inverted, som Raptor, men inte lika hög och snabb.

Riddler's Revenge	47 meter hög, 105 km/tim, 1330 meter lång, 3 min

Stand-up, d.v.s. man står upp i vagnen, helt annorlunda känsla. Många loopar.

Wipeout

Tänkt att efterlikna att man hamnat i en tidvattenvåg. Snarlik Extreme på Grönan men mycket häftigare.

Mantis			44 meter hög, 96 km/tim, 1187 meter lång, 2.40 min

Stand-up, som Riddler's Revenge, men ej med lika många loopar.

Tower of Terror		115 meter hög, 161 km/tim, 330x2 meter lång

Tänk dig att sitta i en bil som skjuts ur en kanon, kör rakt upp i ett högt torn, för att sedan falla fritt baklänges.

Iron Dragon		23 meter hög, 64 km/tim, 852 meter lång, 2 min

Inverted, men du sitter i en vagn och har ej fria fötter. Men häftig ändå p.g.a. närheten till vatten.

Back To The Future
Enda datorsimulerade attraktionen på Topp10, väldigt fräck.

Revolution		34 meter hög, 88 km/tim, 1052 meter lång, 2 min
En äldre berg- och dalbana men placeringen i skogs-miljö ger den en annorlunda och häftig karaktär.

Stratosphere Tower, Las Vegas                  Sahara, Las Vegas

Insanity-The Ride

X Scream

Speed-The Ride

Big Shot
At 1,149 feet (350 meter), the Stratosphere Tower is the tallest freestanding observation tower in the US and the tallest building west of the Mississippi River. Visitors to the Tower are whisked from ground level to the observation decks in less than 30 seconds in double decker elevators traveling at speeds of 1,800 feet per minute or three floors a second.
The Big Shot thrill ride catapults 16 riders from the 921-foot (level 113, 280 meter) high platform up the Tower's mast to a height of 1,081 feet (329 meter). Traveling at 45 miles per hour, riders experience 4G's as they reach the very top, and feel negative G's on the way down.
Insanity-The Ride consists of an arm that extends out 64 feet (19 meter) over the edge of the Tower and will spin passengers at up to three 'G's.' As the ride spins faster and faster, the riders are propelled up to an angle of 70 degrees. Riders will experience the thrill of being flung over the edge of the Tower and literally facing downward at the City of Las Vegas below. The ride is programmable with various ride options. An unobstructed view of historic downtown Las Vegas rewards those riders brave enough to experience three 'G's' at a height of more than 900 feet (274 meter).
At 866 feet (level 109, 264 meter), X Scream is the world's third highest thrill ride. Shaped like a giant teeter-totter (gungbräda), X Scream is an open vehicle that propels riders head-first, 27 feet (8 meter) over the edge of the Stratosphere Tower and dangles them weightlessly above the Strip before pulling it's riders back and over again for more!


The Roller Coaster at Stratosphere Tower 
was taken down in December 2005 since it apparently wasn't scary enough.


Ted Wikströms Top 12 Rides: (All at The Park at Mall Of America, Minneapolis, USA)



Stocken, Skrikande Gula Örnen, Berg- och dalbanan
  

Grodhoppan, Scooby Doo

Spöktåget, Flygplanet, Snabba bilen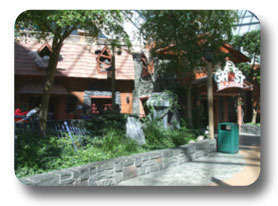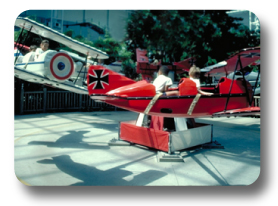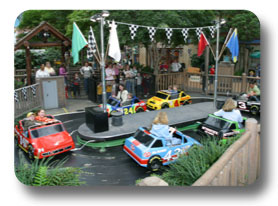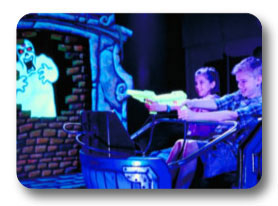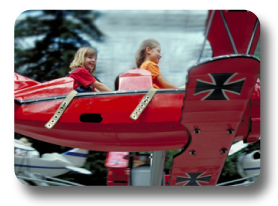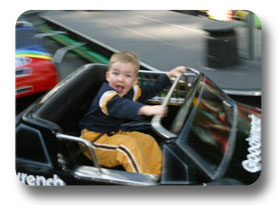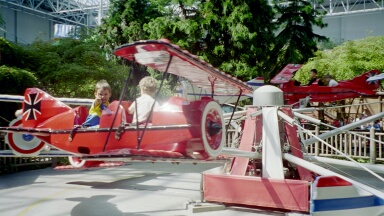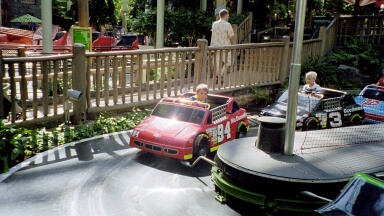 Flygande bussen, Studsmattan, Ballongen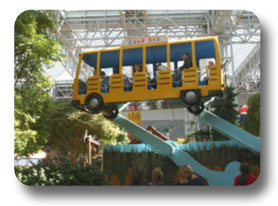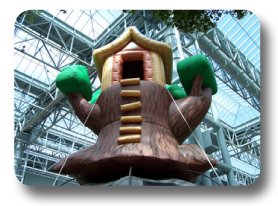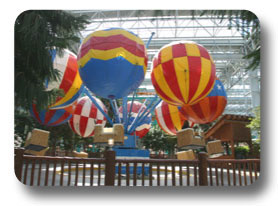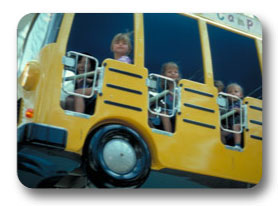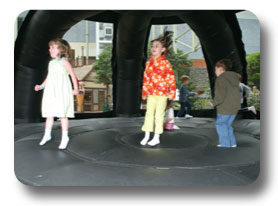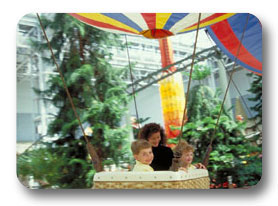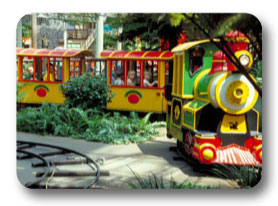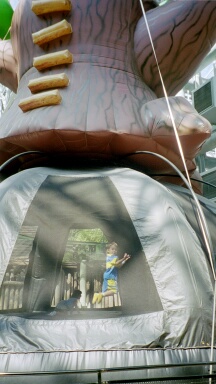 Tåget Copyright © 2006, Patrik Wikström
All Rights Reserved.