Sweden Rock Festival, Norje, 11-12/6 1999

FRIDAY 11:TH 13.00 - 02.00
FESTIVAL STAGE                 ROCK STAGE                        TENT STAGE
13.45-14.30 Sam Mitchell (UK)
                               14.30-15.30 Entombed (S)          14.30-15.30 The Quill (S)
15.30-16.30 HammerFall (S)
                               16.45-18.00 Canned Heat (US)      17.00-18.00 Freak Kitchen (S)
18.00-19.15 Mercyful Fate (DK/S)
                               19.15-20.30 Michael Schenker (US) 19.15-20.30 LA Doors (UK)
20.30-22.00 Manowar (US)
                               22.00-23.15 Motörhead (UK)        22.00-23.15 Lion's Share (S)
23.30-01.10 Scorpions (GER)

SATURDAY 12:TH 12.00 - 02.00
FESTIVAL STAGE                 ROCK STAGE                        TENT STAGE
                               13.00-13.30 TBA
                               14.00-15.00 LOK (S)               14.00-15.00 Black Gold (S)
15.00-16.15 Budgie (UK) 
                               16.15-17.30 Gamma Ray (GER)       16.30-17.30 Lotus (S) featuring Brian Robertson (UK)
17.30-19.00 Captain Beyond (US)
                               19.00-20.15 U.D.O (GER)           19.00-20.15 Dare (UK) featuring Brian Robertson (UK)
20.30-22.00 Dio (US)
                               22.00-23.30 David Lee Roth (US)   22.00-23.15 Dave Hole (AUS)
23.30-01.20 Deep Purple (UK)

Bands in red was the ones I saw at the festival, and bands in blue only have click-links to comments and homepages.

Von Groove from MTM Music was forced to cancel as late as June 3rd.



Me, my girlfriend Anna, my 20 year old cousin Lars-Arne and his friend Zeb left Västerhaninge south of Stockholm at 8 am.
With a rented car and stacks of tapes with great music we drove down to Jönköping for lunch at Max.
Then we stopped by in Svängsta 10-15 miles north of Karlshamn, where we had our Bed and Breakfast, to change clothes.
Before heading out to the festival I did one small stop at the library to help them with their videoconference equipment.
This year there were no cancellations as last year, when we heard that Van Halen had cancelled, when we parked.



 


Freak Kitchen



Had started just 10 minutes before we arrived at the festival. Not great but the guitar player was worth staying a few songs for.


Freak Kitchen Homepage





Mercyful Fate featuring King Diamond




Mercyful Fate actually played Karlshamn already in 1981 (with Overdrive at Stadsteatern). Hank Sherman is still the guitarist and also in the band are the swedes Mike Wead and Sharlee D'Angelo. Sadly, this was the only band to suffer from quite a heavy rainfall, but that did not disturb the metal fans in the front. The highlight was the last encore "A Dangerous Meeting".


Mercyful Fate/King Diamond Homepage


 


Michael Schenker Group




First Michael disappointed me a little since he had cut his hair short, then he only played four old MSG songs because he played six UFO songs that I heard him play in November 1997 with UFO. I don't understand why he did that. I wanted to hear "Cry For The Nations", "Lost Horizons" and a lot of MSG songs that I hadn't heard live since 1986. I was also hoping for an appearance by Michael with his brother Rudolf in Scorpions for some good old songs but NOT. But Michael Schenker was my first guitar hero together with Ted Nugent and he is still great, so I can't complain. Keith on vocals did a good job, I want to hear more from him together with Mike Slamer from Streets in their new band Steelhouse Lane. The highlight was "On And On". Met two friends during Schenker, Tomas Bristulf from Bromma and Morgan Maxe from Örebro/Stockholm.

Time: 7.21 p.m. - 8.24 p.m. (74 min)
Tracklist:
Armed And Ready
Only You Can Rock Me
Natural Thing
Pushed To The Limit
Written In Sand
Into The Arena
 bass solo + drum solo
Essence (Instr.)
Pilot Of Your Soul
The Mess I've Made
Fat City N.O.
On And On
Attack Of The Mad Axeman
Too Hot To Handle
Lights Out

Encore: 8.26 p.m. - 8.37 p.m.
Rock Bottom (+ extended solo)

Michael Schenker Homepage


 


Manowar




Manowar did not impress me as they did twelve years ago when I saw them last at Göta Lejon in Stockholm. In fact they were somewhat embarrasing when Joey at one point wanted a girl and a guitar player up on stage. The girl to show her tits and the guy to play some guitar and if he played well, Joey said that he could fuck the girl backstage. All this might come out on a video they said they were filming. The highlight was "Gates Of Valhalla". Also met two friends during Manowar, Pelle from Örebro and Stefan from Tumba. I hadn't seen Stefan since the world premiere in Stockholm of Erik The Viking by Terry Jones in 1989.


Manowar Homepage


 


Lion's Share




Lion's Share's third album "Fall From Grace" is still only released in Japan but will be released in the fall. They have also recorded a cover of "I Don't Believe In Love" for a Queensryche tribute called "Take Hold Of The Flame". Lasse has improved very much on guitar but it is Andy that lifts the band to the absolute top in Sweden at the moment. Met two friends during Lion's Share, Micke and Niklas from Märsta.


Lion's Share Homepage


 


Motörhead




Lemmy liked playing Karlshamn so much last year that they wanted to come back and he said he wants to come back again. I was hoping that drummer Mikkey Dee would join King Diamond for a few songs since he played with him the last half of the 80's, but instead we were treated with a guest appearance by John Norum on the last song of the set, "Killed By Death". Then as encore they played "Ace Of Spades" and "Overkill" as usual.


Motörhead Homepage


 


Scorpions




They started with "Loving You Sunday Morning" and Bad Boys Running Wild" as they always do, boring. The songs from the fourteenth and latest album "Eye To Eye" were not good, "Mysterious" was infact pathetic. Sadly Michael Schenker did not join his brother Rudolf on stage for some old songs. As expected they didn't play the excellent "China White" now either, but not even "Another Piece Of Meat" was played. The highlight must have been the end of the last song at 1.10 am because my feet was killing me.


Scorpions Homepage


 


Budgie


 Still on bass, Burke Shelley and on guitar, John Thomas.

After three years Budgie reformed to make this appearance in Sweden with songs from the classic albums "Bandolier", "In For The Kill" and "Power Supply". As an encore they played "Breadfan" that Metallica recorded some years back. The highlights were "Panzer Division Destroyed", "Turned To Stone", "Forearm Smash" and "Breadfan". Met my friend Micke from Märsta again during Budgie.


Budgie Homepage


 


Lotus featuring Brian Robertson


  

Lotus has recorded "Mesmerization Eclipse" for a Captain Beyond tribute album with Thin Lizzy guitarist Brian "Robbo" Robertson, and then he followed down to Karlshamn to join them for a couple of songs. Actually, I happened to meet Robbo before "Raging River Of Fear" when he came out in the crowd to watch Captain Beyond. Since Robbo played in Thin Lizzy with Dare's Darren Wharton, he came back to the same stage a few hours later to join them. The highlight was "Massacre" since that was my favorite Lizzy song together with "Emerald" and "Ballad Of A Hard Man".

Time: 4.30 p.m. - 4.56 p.m.     Lotus songs

Time: 4.57 p.m. - 5.21 p.m.     With Robbo
Tracklist:
Mesmerization Eclipse   Captain Beyond cover
Granny Smith & Wesson	Robbo trouble with his guitar
        "Well, I got the end there. Give me a sec here to make sure that my guitar is working".
Massacre        Robbo tuning again
Don't Believe A Word    Robbo on vocals
        "Can't remember the rest of the fucking words".
It's Only Money
Are You Ready
        "I'm fucking NOT, Oh yes I am".

Encore: 5.24 p.m. - 5.28 p.m.
        "Thank you very much, I appreciate it. The boys in the band don't know what I'm going to play.
        In fact, the boys in the band aren't even here. I'm gonna need your help on this".
Baby Drives Me Crazy    Robbo on vocals
        "Tack ska ni ha. (Thank you in swedish)"

Lotus Homepage Robbo Homepage Lizzy Homepage


 


Captain Beyond


  

Captain Beyond played their first gig in 20 years at this festival. Their astonishing debut was released in 1972, with tracks like "Dancing Madly Backwards" and "Mesmerization Eclipse". Then with Rod Evans on vocals (Deep Purple's first singer). "Sufficiently Breathless" came 1973 and the third and last album, "Dawn Explosion" came 1977 and two years later the band split up. By the end of 1998 guitarist Rhino and drummer Caldwell decided to put Captain Beyond together again and hired Jimi Interval on vocals, Dan Frye on keyboards and Jeff Artabasy on bass. A new album will be released by fall of 1999 accompanied with a tour that is supposed to reach Sweden in September or October. The highlight was "Mesmerization Eclipse" that was heard for the second time of the day, after the cover by Lotus.

Time: 5.34 p.m. - 6.46 p.m. (78 min)
Tracklist:
?               (From the third album)
Dancing Madly Backwards
Frozen Over
Sufficiently Breathless
Everything's A Circle
        Here I met Brian Robertson from Thin Lizzy when he came out in the crowd to watch Captain Beyond. 
Raging River Of Fear
Fantasy         technical problems
Starglow Energy
Thousand Days Of Yesterday
 presentation
Mesmerization Eclipse

Encore: 6.48 p.m. - 6.54 p.m.
?               (From the third album)

Captain Beyond Homepage


 


Dare featuring Brian Robertson


  

The debut album "Out Of The Silence" established the melodic band Dare. "Blood From Stone", produced by Keith Olsen (Europe, Whitesnake, Scorpions) took them even further and after years of silence they returned with "Calm Before The Storm". Darren Wharton is of course still in the band, he also made a reunion tour with Thin Lizzy last summer. Brian Robertson from Thin Lizzy joined for "Still In Love With You", "Deliverance" and "Rosalie". It seemed like both Darren and Robbo was surprised at the beginning of "Deliverance". Darren that Robbo was still on stage, and Robbo seemed like he had never heard the song before. Earlier that day on the same stage Brian joined Lotus for a few other Thin Lizzy songs. The highlight was the entire show, Dare made the best appearance of all the bands at the festival. Darren is a great singer. Met my friend Stefan again during Dare and stood talking to him during Dio, saw another friend, Agneta, then as well.


Time: 7.14 p.m. - 8.18 p.m. (70 min)
Tracklist:
Walk On The Water
Someday
Calm Before The Storm
Return The Heart
Crown Of Thorns
Silence Of Your Head
Abandon         (live for the first time ?)
King Of Spades (dedicated to Phil Lynott)
Black Rose (only instrumental part)
Still In Love With You (8.05 p.m. - 8.12 p.m.)
Deliverance (8.12 p.m. - 8.18 p.m.)

Encore: 8.21 p.m. - 8.27 p.m.
Rosalie "Never been tried before without a safety net".
Jam

More pictures of Dare

Dare Homepage Darren Wharton Homepage Lizzy Homepage


 


Dio




Dio is still a great singer even though a journalist already in 1984 wrote about a show with Dio and Queensryche in Stockholm, "It can't be good for Dio's confidence to have a guy in the support act singing better than himself". And you still wonder about Dio's confidence when he ends his show with 4 songs but only one of his own, and why can't he find decent musicians to join him on stage. The solos were the most boring ones I've heard since Motley Crue's Mick Mars in Stockholm 1986. The highlights were my favorite Dio songs "The Last In Line" and "Rainbow In The Dark".


Encore:
Neon Knights
Rainbow In The Dark
Man On The Silver Mountain
Long Live Rock'n'Roll

Dio Homepage





David Lee Roth



David was as usual in good form, but one of his speaches about Van Halen was really in bad taste. "I'm looking down to the bottom. I see a couple of ex-managers, I see a couple of ex-lawyers, wait a minute, it's Gary Cherone sucking Eddie's dick". The highlights were "Mean Streets" which I didn't think he was going to play and of course "Unchained".

Time: 10.03 p.m. - 11.13 p.m. (80 min)
Tracklist:
Hot For Teacher
Panama
Little Guitars
Slam Dunk
Running With The Devil
Eruption/You Really Got Me
        "What is this, Sammy Hagar ?  I think NOT".
So This Is Love
Mean Streets
Yankee Rose
        "My first real Rock'n'Roll show in five and a half years".
Ice Cream Man
        "Nobody rules the street other than Diamond Dave".
Atomic Punk
Little Dreamer
Pretty Woman
Dance The Night Away
Spanish Fly (guitarsolo Burt Walsh)
Tobacco Road
Ain't Talkin' bout Love
        "I couldn't have picked a better place to kick off the next 20 years".
Unchained

1st Encore: 11.14 p.m. - 11.19 p.m.
Jump    Great guitar solo but without spotlight on Burt
        Dave swinged the mikestand with very high speed, nice work

2nd Encore: 11.21 p.m. - 11.26 p.m.
Everybody Wants Some

David Lee Roth Homepage DLR Army


 


Deep Purple




Another great show with the NEW Purple with guitar god Steve Morse. Almost everything was better than last year even. Except the new intro to Smoke On The Water, that had segments from a lot of different tracks and became too annoying. Then the biggest surprise of the festival was that Ian Gillan had cut his hair, it wasn't just short, it looked AWFUL. The highlights were "Bludsucker", "Space Truckin'" and "Perfect Strangers". This was the third Purple show for me in 10 months and the fourth in 2 years but I am already looking forward to the next one.

Time: 11.30 p.m. - 1.12 p.m. (108 min)
Tracklist:
The Boys Are Back In Town (1 minute of Thin Lizzy)
Pictures Of Home
Vavoom: Ted The Mechanic
Strange Kind Of Woman
        "It's all about Roger's headache, or really some manager from 1969".
Bludsucker
'69     (Middle section of '69 with segments of other tracks)
Woman From Tokyo
Sometimes I Feel Like "translating this message and go down for a beer" (Screaming)
Watching The Sky
        "We used to visit solarsystems but not with those little tin things they use today".
Space Truckin'  
 solo Morse
 intro Lord
Lazy
        "That was Lazy and this is NOT".
Back In Black    (1 minute of AC/DC)
 intro Morse (with segments of a lot of other tracks)
Smoke On The Water
 intro Lord
Perfect Strangers
Speed King
 duel Morse/Lord
 solo Glover/Paice
Blue Suede Shoes

Encore: 1.14 p.m. - 1.20 p.m.
Highway Star

See my Classic Rock Weekend page and page about two other Deep Purple concerts. 

Deep Purple Homepage


 


Canned Heat




In 1967 Adolfo "Fito" De La Parra and Larry "The Mole" Taylor became members in the newly started blues-combo Canned Heat. 32 years later they appeared in Karlshamn. Together with guitarist Robert Lucas, that has made 7 solo-albums was also on Canned Heats debut album. On bass Greg Cage (ex The Buzzyrds).


Canned Heat Homepage


 


Entombed




Played to early in the afternoon for us to catch them.


Entombed Homepage


 


Gamma Ray



In 1994 Joey De Maio and Eric Adams from Manowar called Gamma Ray "the best support act we have ever had". I missed them since Lotus with Brian Robertson played at the same time but since I couldn't stand Kai Hansen's voice when he was in Helloween, I see no reason why I should have liked it any better now.


Gamma Ray Homepage


 


HammerFall




I saw HammerFall last year in Karlshamn and they surprised me as being rather good, but missed them as support to Deep Purple in December in Stockholm and now I missed them again since they played to early on friday afternoon.


HammerFall Homepage


 


Dave Hole



Australian slide guitarist Dave Hole is noted for his energetic, high-volume rock & roll/blues music and unusual playing style. Though left-handed, Hole plays guitar right-handed, and developed a technique to compensate for a finger injury in which he places his fingers over the top of the neck. He also uses a pick for a slide, and utilizes finger picking when playing normally.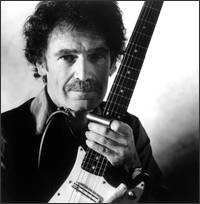 Born March 30, 1948 in Heswall, Cheshire, England, but raised from age four in Perth, Australia, Hole became interested in blues guitar around age six after hearing a schoolmate's Muddy Waters album. He received his first guitar at age 12, but became discouraged trying to learn it by himself (teachers were in short supply in isolated Perth) and abandoned it until he was 16. This time, he began picking up riffs and techniques from records. Primary influences include Eric Clapton, Jimi Hendrix, Robert Johnson, Elmore James and Mississippi Fred McDowell. Hole became a professional in 1972 working with a band in London. Returning to Perth in 1974, he began his long stint touring the western Australian club circuit, playing 20 years in remote towns before making Short Fuse Blues, an album he financed, produced and recorded with his band, Short Fuse, in three days in 1990. He then hawked the album during club performances, and on a whim sent a copy to Guitar Player magazine in the U.S. The editor listened to it, liked it, wrote a praise-filled article hailing him as the newest guitar wizard and comparing him to such greats as Stevie Ray Vaughan and Albert King. He then helped Hole land a distribution deal with Alligator Records. The American debut of Short Fuse Blues earned Hole considerable praise from other sources and was well-received by the public. Although best known in Australia, Hole, with the release of his second and third albums, Working Overtime (1993) and Steel on Steel (1995 both for Alligator), have garnered him a respectable following in the U.S. and Europe.



 


The Quill



Played to early in the afternoon for us to catch them.


The Quill Homepage


 


U.D.O.




Started with "Metal Heart" and ended with "Fast As A Shark" as last encore. Accept-drummer Stefan Kaufmann played guitar with Udo now.


U.D.O. Homepage

 
     Recharging and refueling             Two heavy visitors
                                       one with a Kansas T-shirt



© 1999 Patrik Wikström


Back To Main Menu