1. Cancun, Mexico 1993

 2. Englewood, Denver, Colorado, USA 1996

 3. Sioux Falls, South Dakota, USA 1997

 4. Uncasville, Connecticut, USA 1998 (Symphonic)

 5. Coffeyville, Kansas, USA 1999

 6. Stuttgart, Germany 2001

 7. Sweden Rock Festival 2005

 8. St. Paul, Minnesota, USA 2006

 9. Las Vegas, Nevada, USA 2006

10. Gothenburg, Sweden 2008

11. Malmo, Sweden 2008

12. Sweden Rock Festival 2011




1993  8 Oct Rock ´n´ Roll Classic Festival, Cancun Palace, Cancun, Mexico
This was the first time I saw Kansas, because they haven´t been to Sweden since the 70´s.
Some friends of mine went down to Germany in 1991 to see them but I couldn't go at that time.
Sadly I missed my only chance to see them with Steve Morse.
On this trip I changed planes in Dallas and when I sat down at the gate I recognized some 
people beside me. It was Kansas. On the plane I sat with Billy Greer and in Cancun he 
introduced me to the rest of the band. I even met David Ragsdale but since I didn't have the 
"Live at the Whisky" CD at that time I hadn't even heard of Ragsdale.
Phil was at home, his wife was having a baby.
This was actually the first Kansas show without Phil. Filling in was Van Romaine whom I met 
again in New York at Irving Plaza two weeks later when he played with Steve Morse.
After the show with Steve Morse Band I went up close to the stage while Van Romaine were 
collecting his stuff. Steve Morse had already left. Suddenly Van looked up and saw me, came 
towards me and said that he recognized me from Mexico. He was surprised to see me again, so soon.

Time: 01.23 a.m. - 02.27 p.m.
Tracklist:
Intro: 
Point Of Know Return
Song For America
The Wall
Hold On
Dust In The Wind
?
Portrait (He Knew)
Carry On Wayward Son

Encore:
Down The Road

David Ragsdale blew me away, I became a fan of his straight away.
The show was great, even though it was quite short.


One of Steve's comments was, They hate you here Kevin (Cronin in REO Speedwagon that headlined the second day)



1996  1 Aug Fiddler´s Green Amphitheatre, Englewood, Denver, Colorado
 Click here for more photos by Joe Louis
At this show they supported Styx and made an even better performance than in Cancun, even 
though they played a shorter set. The opener, I Can Fly, gave the show a flying start. 
Steve Walsh actually did a handstand on the keyboards while playing. 
Sadly they only played one other new song, Hope Once Again, but it was still great.
Click here for photos of Styx

Tracklist:
I Can Fly (shortened)
Paradox
Hope Once Again
Song For America
The Wall
People Of The South Wind
Portrait
Fight Fire With Fire/Play The Game
Point Of Know Return

Encore:
Dust In The Wind
Carry On Wayward Son

I tried to get backstage after Styx, but I was told that Kansas had already left.
Just a few months after this show Ragsdale and Greg Robert left the band.



1997  6 Aug Sioux Empire Fair, W. H. Lyon Fairgrounds, Sioux Falls, South Dakota
 More pictures from Sioux Falls
On this trip I was going to see Kansas twice, first at a festival in Calgary, Canada with 
Deep Purple (among others) and then headlining in Sioux Falls 3 days later, but when I got
to Calgary, they had cancelled and no one knew why. Purple with Steve Morse was great though.



Then I flew up to Rapid City on August 5 to play disc golf and visit Mount Rushmore and found
out that ZZ Top was playing there that night with Kansas as support. Then I realized why they 
had cancelled the festival. Supporting ZZ Top must have seemed better than playing a festival 
in Canada. It was sold-out so I couldn´t get in to see the show because of all the bikers.



The fun thing happened the day after. When I stood in line at the airport for my flight to 
Sioux Falls I started thinking about the chance to see Kansas on the plane again. Since there
were only four flights a day, the chances were quite good and while walking up towards the 
gate I noticed the whole band except Billy standing at the gate, this time with Phil Ehart.
Steve said, "Didn´t I see you in Mexico?" Billy was already on the plane when we stepped in.
Strangely we had the seats next to each other, Phil had 4A, I had 4B, Steve 4D, Robby 4C but
Steve wanted to change with Robby to get an aisle seat. Billy was sitting in front of me on 
3B and Rich was sitting in 2C. It was fun sitting and talking about other things than music.
Then I got a laminated pass from Billy so hopefully I won´t miss any more sold-out shows.



Waiting for luggage at arrival, I sat talking with Steve about my interest in Alfred Hitchcock 
among other things. Steve mentioned that he also is a big Hitchcock-fan and in 2000 he 
released a song called "Rebecca" on his Glossolalia-album. Maybe our chat had something to do with it.

 

It was nice to hear some other songs played this time around, like Cheyenne Anthem.
Since this was the first time I saw Robby live it felt very special, even though I had 
hoped for a longer set. Maybe next time. The band had an early morning flight so only 
Robby and Nick Fakouri, the tour manager, followed to the Pomp Room after the show. 
Can´t remember the name of the local cover band but they even played a few ABBA songs.

Time: 9.47 p.m. -11.05 p.m.
Tracklist:
Point Of Know Return
Opus Insert
Miracles Out Of Nowhere (Robby vocals)
The Wall
Cheyenne Anthem (Robby vocals)
Reason To Be
Hold On
Child Of Innocence
Journey From Mariabronn
Icarus - Borne On Wings Of Steel
Portrait (He Knew)

Encore:
Dust In The Wind
Carry On Wayward Son



Kansas + Mohegan Sun Festival Orchestra

1998  7 Aug Mohegan Sun Casino, Uncasville, Connecticut

Me and my girlfriend arrived at the casino to find my envelope,
but it did not include two tickets and two passes as expected.
It included four tickets and four coupons for complimentary drinks.
Some mistake had been made about the passes.
After getting the message across, I overheard Nick Fakouri, the tourmanager, 
"The guy came over from Sweden, get him some passes."

The show was excellent. The band thought it was their best symphony show ever.
Robby told a story about another casino show and that people tend to stray, 
a lady had come into the venue and asked for Robert Goulet.
They even played Nobody´s Home which they never did before.
When Robby returned in 1997 he had asked them why they never did.
"Because you couldn´t play it", they had answered. So now he had practised.

Time: 8.15 p.m. -9.34 p.m.
Tracklist:
Prelude & Introduction (instrumental)
The Wall
Miracles Out Of Nowhere
Cheyenne Anthem
Hold On
In Your Eyes
Nobody´s Home
Eleanor Rigby
The Sky Is Falling
Song For America
Point Of Know Return
 solo Phil Ehart
Portrait (He Knew)

Encore: 9.36 p.m. -9.48 p.m.
Dust In The Wind
Carry On Wayward Son

Afterwards we were invited to the Hilton Hotel in Mystic for some beers.
A fun ending to a wonderful night of Symphonic Kansas.
This was the third summer in a row that I went over from Sweden to the States to see Kansas.

 Photo by Norm Carpenter
On my 35th birthday April 24th, 1999, David Ragsdale joined Kansas for Dust In The Wind 
at Riverfest in Columbus, Georgia. David's hometown.
On May 8, the same year they were joined by Kerry Livgren for a show in Kansas City, Missouri.
(April 7 and July 1, 2000 and April 21, 2001 and June 5, 2004 Livgren joined again)


1999  9 Aug Inter-State Fair, Coffeyville, Kansas
 From left: Steve, Richard, Patrik, Phil, Billy, Robby
As planned, 1999 became the fourth summer in a row for me to see Kansas and this time in Kansas.
Actually in Phil Ehart's hometown, and where Robby spent much time with his grandma.
I arrived in Coffeyville at midnight the day before the show after a 21 hour journey 
with 3 flights and 80 miles by car.

The next day I spent with going up to Neosho Falls, which suffered a severe flood in 1951.
The song 'Rainmaker' is based on that flood. The water was 14 feet deep on Main Street.
Came back to Coffeyville to do an interview for The Coffeyville Journal. Click here for article
At 8 pm, Little River Band started and they were good.
Kansas arrived at 9.05 pm, and after talking a while we took the photo for the article at 9.50 pm.
Billy had just been in contact with his old Streets partner Mike Slamer so he knew that he had an 
old Streets song "The Nightmare Begins" on his Steelhouse Lane album.

Time: 10.12 p.m. - 11.20 p.m.
Tracklist:
Intro: God Bless America
Song For America
Play The Game Tonight
The Wall
Cheyenne Anthem
Hold On
Miracles Out Of Nowhere
Eleanor Rigby
Fight Fire With Fire /
Sparks Of The Tempest
Down The Road
Portrait (He Knew) /
Magnum Opus

Encore: 11.21 p.m. - 11.36 p.m.
Point Of Know Return
Dust In The Wind
Carry On Wayward Son

The highlight was the mixed version of Fight Fire With Fire and Sparks Of The Tempest. Excellent.



2001  8 Apr Longhorn/LKA, Stuttgart, Germany

Time: 9.50 p.m. - 10.58 p.m.
Tracklist:
Mysteries and Mayhem / Paradox
Miracles Out Of Nowhere
Icarus II
Icarus - Borne On Wings Of Steel
Song For America
The Wall
Hold On
Not Man Big
Down The Road
Portrait (He Knew)

Encore: 11.00 p.m. - 11.14 p.m.
Point Of Know Return
Dust In The Wind
Carry On Wayward Son
 Photo by Patrik Wikström

More pictures from Germany (taken by myself): 17 / 18 / 19 / 21

The complete review of the show was printed in the July 2001 edition of ArtRock from GARF

Here is a translation of (a part of) that review:
Good evening and welcome to Kansas
This was the sixth time I saw Kansas but the first time in Europe.
This time in Stuttgart, Germany they came with the same line-up as the last 
three times I had seen them, but they have always had changes in the setlist 
and this show offered some new tracks from the superb Somewhere To Elsewhere.

I thought they could have played the song Kansas from Steve Walsh solo album 
Glossolalia as well since it would suit Kansas perfectly. They did do some 
solo album songs on the 1981 tour (one from Walsh's and one from Livgren's) 
but after that they decided not to play any more solo songs in Kansas.

Back to the show, I don't think that I have ever seen such a Kansas audience. 
They didn't even clap their hands to the support act Asia, (except during 
"Heat Of The Moment" of course) but when Kansas came up on stage they were 
greeted with a roar from the sold-out venue (approx. 2000 people). 
The last time I saw them they opened with Fight Fire With Fire/Sparks Of The Tempest, 
this time it was Mysteries And Mayhem/Paradox. Followed by another shared vocal 
by Steve and Robby in Miracles Out Of Nowhere.
The opener on the latest album, Icarus II, followed. Should become a classic. 

It was nice to see Steve had taken off the beard (from the Glossolalia photos), 
he looked 10 years younger directly. Steve started off a little on the safe side, 
but then he was back on top during Icarus-Borne On Wings Of Steel. Brilliant. 
Even Billy and Robby sang great. Not many bands have three singers with such a quality.
Queen did, but not even Thin Lizzy with Lynott, Sykes and Wharton could compete. 

The 10-minute track Song For America came next, and even though it's good, I would 
rather hear two other tracks from any of their albums. 
The Wall (recently put back in the set) and Hold On followed before the second new 
song appeared, Not Man Big. When Billy Greer last year told me that they had put that 
song into the setlist, I wondered why, since most tracks on the album are better. 
Now when I heard it live, I understood why. It was great live especially after Hold On. 
Steve played it a bit safe on the line "million miles between", but it was most likely 
just to save some "push" to the finish.

Normally I would say that the next song, Down The Road, is the weakest of the set, 
but when you are standing 30 feet from Phil Ehart (on the side of the stage), 
you can't complain. It was a pleasure not just to see a great drummer in action, 
but also his enthusiasm and his partyattitude. What a rocker!
Even Rich rocks during Down The Road. They start the song with an instrumental section 
and they also put an instrumental section in the middle. 
That is much more fun to hear than a lot of solos, like other bands usually have. 

The excellent Portrait (He Knew) finished the set, which leads me to the only sad thing 
about Kansas, the short set of about 70 minutes. Of course with the encore it ends up at 
85 minutes but I think it is still too short. 
The last time I saw Rush they played an excellent 3-hour show. 
But Kansas encore with Point Of Know Return, Dust In The Wind and Carry On Wayward Son 
doesn't leave you sad though. Both DITW and COWS are on my All Time Top 10 List. 
Only one other band have two songs on my Top 10 and that's Queensryche. 

Some short comments about Asia: Only original member was Geoff Downes on keyboards, 
but they had Chris Slade (Mannfred Mann's Earthband, Uriah Heep, The Firm, AC/DC) on drums. 
They did an OK concert. I talked to the singer John Payne both before and after the show 
and after a tour of USA/South America in the summer, they will come back to Europe in the fall. 
Then they will even come to Sweden. 

I will finish this review with a wish to see Kansas in Sweden. They have only been here once 
and that was in the 70's. The only thing Robby remembers of Sweden is that it was cold. 
Kansas promised me to come to Sweden (and Poland, where the album has sold well) next time 
they get over to Europe which could happen quite soon since the new german promotor was very 
satisfied with these 10 shows in Germany in April 2001.


 
2005 10 Jun Sweden Rock Festival, Norje

As I mentioned above, Kansas promised me in 2001 to come to Sweden, it took 4 years, but it happened.
Last time they came over for a 10 date German tour, this time it was 17 dates all over Europe.
Germany, Sweden, Holland, England, Spain, Switzerland, Italy and France.

I listened to Helix while watching the Kansas crew set up their equipment. 
I said hello to their sound man Billy at the mixing board and then saw the whole band (except Robby) 
come up on stage to fix their gear. I said hello to my old friend Billy Greer and asked if he could 
get me a pass and even though he was busy with his stuff it just took 5 minutes until he threw me a 
paper-cup with a pass stucked inside. This meant that I missed almost everything with Helix, pity me.

Instead of watching Helix I sat with my friend Billy Greer and my friend Anders in Kansas tourbus and 
talked about Streets, Kansas and Seventh Key, the three big musical ingredients in Billy's career.
Seventh Key will have a Live DVD out in November, with Robby Steinhardt guesting. This was Mike 
Slamer's first live work in a long time, and he loved it, so it might be more of Seventh Key.
They might even come over to Europe, (and why not Sweden). See my Seventh Key Fan Page for more info. 
When showing a photo of my wonderful 3-year old son, Ted, he said he was cute and mentioned that his 
grandchild actually had his birthday that same day.
The chat ended with 18 minutes until showtime, so I had to hurry to the front of the stage.


The show was great. They surprised me by playing Magnus Opus in its entirety and to include 
Bringing It Back from their debut album. The encore with Dust In The Wind and Carry On Wayward Son 
(both from my Top-10 list) beats every band on the planet. Steve Walsh sang as good as ever and also 
more songs than usual since Robby got back. Last couple of times I've seen them Robby has sung lead 
at least as much as Steve, if not even more than Steve. Now there were much more songs with Steve.

In the audience I saw a fan with Overkill T-shirt, that jumped up and down the whole show, and knew 
all the lyrics. There were also a lot of musicians from other bands at the festival, watching Kansas.

Tracklist: 4.28 p.m. - 5.43 p.m.
Intro				    lead vocals
Belexes					SW
Paradox					SW
Opus Insert				SW
Miracles Out Of Nowhere			RS/SW
Icarus (Borne On Wings Of Steel)	SW/RS
Magnus Opus				
     a. Father Padilla Meets The Perfect Gnat
     b. Howling At The Moon		SW
     c. Man Overboard		
     d. Industry On Parade	
     e. Release The Beavers	
     f. Gnat Attack
Song For America			SW/RS
The Wall				SW
Bringing It Back / Down The Road	RS
Point Of Know Return			SW
Portrait (He Knew)			SW/RS

Encore: 5.44 p.m. - 5.55 p.m.
 Robby said "We know what you've been waiting for. This is Kansas big Heavy Metal Hit Dust In The Wind."
Dust In The Wind			SW 
Carry On Wayward Son			SW

Highlights: Miracles Out Of Nowhere, Magnus Opus, Portrait (He Knew) and the encore
Rating: 5

I met Kansas again after the show just for a short time, 20 minutes after the show they were already 
on their way. At least I had the time to give Billy a copy of ArtRock magazine with my review of 
their gig in Stuttgart in 2001. And since Steve enjoys watching movies by Alfred Hitchcock I was glad 
to give him a copy of the book about Hitchcock's TV series that I wrote in 1998-2000.
I signed it "To Steve Walsh, for writing the wonderful song Rebecca", about the character in 
Hitchcock's movie with the same name from 1939. The song was released on "Glossolalia".

For more pictures of Kansas

Check out my Sweden Rock 2005 page for more about the festival. 


 
2006 30 Jul Rib Fest, Harriet Island, St. Paul, Minnesota


Me and my son Ted was in St. Paul, Minnesota to see Kansas.
It was at the Rib Fest on Harriet Island and the show was free and they played about 75-80 minutes, 
they skipped Magnum Opus, Song For America & The Wall and I didn't mind. I heard Magnum Opus 
last summer in Sweden and I've heard Song For America & The Wall almost every time I've seen them. 

I was in the front row for some portions of the show but as I had my son with me I saw it mostly from 
the side of the stage.
I heard it great though as I stood behind the "singer in the back" speaker next to the soundboard.
Billy sang absolutely great, especially in Miracles Out Of Nowhere.
It's hard to believe that he didn't sing lead for 25 years between QB1 and Seventh Key.

It was great to hear Black Fathom 4 live. Ragsdale told me that they are 
even thinking of doing a mixed version of I Can Fly & Desperate Times later. 
I am hoping to hear that next time I see them, even though I heard I Can Fly (and Hope Once Again) 
when I saw them in Denver 1996 but I haven't heard Desperate Times live before.
It was easily among the top 4 Kansas shows for me (I have seen 8). It's difficult to be more exact 
but I still think the 1998 orchestral show is the best one. 
Then the 1996 show and this 2006 show (both with Ragsdale) and the show in Coffeyville, Kansas 
in 1999 are pretty close. (But then again the shows in 1993 and 2001 were excellent too.)

Photos by Patrik Wikstrom


 
 


Click here for more Minnesota Photos

My son Ted was happy as well even though the temperature was 99. We had a tent backstage with sofa, 
fans and free drinks. Ted also got a drumstick from Phil and picks from Rich and Billy. 

Actually I met the band at their hotel shortly before the show as well.
When I was sitting down in the lobby talking to Billy Greer, David Ragsdale came down, and he actually 
remembered me from Cancun, Mexico 13 years earlier when he saw my Hard Rock Café Cancun Tank Top.
After the show we sat in the hotel bar with Billy and Rags and a few others. 
Rags also signed all 7 albums I have got with him. A great day in Minnesota. 
When I was about to take a photo of my son Ted together with Rags, Ted ran away.

 Photo of me and Rags by Billy Carbone
  
Tracklist: 3.58 p.m. - 5.12 p.m.
Journey From Mariabronn intro / Sparks Of The Tempest
Paradox
Belexes / Lightnings Hand
Opus Insert / Glimpse Of Home
Miracles Out Of Nowhere
Icarus
Wheels / On The Other Side
Black Fathom 4 / Crossfire
Point Of Know Return
Portrait (He Knew)

Encore:
Dust In The Wind
Carry On Wayward Son

PS. Mike Slamers solo album is finally done after months of mixing. 
Billy had got some Mp3's and it sounds absolutely amazing. 
(See more in the discography section on Billy Greer)

An article (in swedish) with review of this show will be printed in the October edition of ArtRock 
from GARF. As of Sep 3, the article is published on their website, ArtRock.se
An english translation of this article (shorter version) is posted on the forum of potsw.org



 
2006 23 Sep The Railhead, Boulder Station Casino, Las Vegas, Nevada

After a lot of thinking back and forth I decided to go on the trip of a lifetime.
Many US Kansas fans had been persuading me to come over to this Kansas concert.
Billy Greer was also glad to hear that I was coming, so I was put up on the guestlist early. 
A lot of people have flown to Las Vegas just for a weekend, but not that many from Sweden, I bet.
This was also the tenth Annual WheatFest arrangement. 
  

WheatHead TV clip from Las Vegas Sep 2006

The day before the show there was an auction where they had lots of Kansas memorabilia. 
One of those were a photo of The Pets, one of Phil Ehart and Rich Williams first bands. 
videoclip 1 / videoclip 2

The Traveling Wheatheads played a couple of Kansas songs. Some where Going Through The Motions, 
Crossfire, Stay Out Of Trouble and Journey from Mariabronn. 
They also played Children of the Shadows from Kerry Livgrens 1998 album Prime Mover II. 
 Photo by Rich Baumann

One more reason to go on this trip was that I've wanted to go to the Stratosphere Tower for many years.
On saturday morning I went there, and then to Sahara Hotel to ride Speed as well. I even went for a 
beer at Stardust where Kansas played in March, (Robby's last two gigs) and funnily enough Billy Greer 
called me to say he just got to his hotel when I was sitting at the bar at the Stardust.

Back at Boulder Station I ran into Ragsdale and Eric Holmquist after the buffet with the WheatFest group. 
Actually already when we got to the parking lot I heard someone shout "Patrick", when I turned I 
saw Billy Greer's friends from Minnesota that I met in St. Paul in July. 

At the beginning of the show it sounded like Steve Walsh wasn't having his best night, but closer to the 
end he proved me wrong. For instance he sang The Wall and Point Of Know Return absolutely brilliant. 
After Miracles Billy spoke about WheatFest 2006 and also poked fun at Rags by saying: "Have to break 
the news that since David is in his hometown he has to play the second half nude from the waist down."

They didn't play Black Fathom 4 which made me a bit sad, I would have loved to hear that live again. 
Instead they put in the three songs they skipped in Minnesota, which I said I didn't mind. 
But actually it was nice to hear Song For America with Billy on lead vocals. He sang the "Utopia part" 
great. Billy really seemed to enjoy being the frontman more now than earlier in the summer. 
He's getting used to this now. He was glowing by self-confidence on Portrait (He Knew). 
And the "indian" silhouette dance on the screen for Magnum Opus was fun to see.
     
    Photos David Carstens

After SFA Billy mentioned the WheatFest Charity Auction the night before and the Works In Progress 
package and introduced Point Of Know Return by saying "Next song goes exactly like this". 

David was great as ever but on Dust In The Wind, he ruled. He even took the spotlight away from Steve. 
Lately Dave Green, the tourmanager, has been doing some backing vocals from the side of the stage. 
Since Dave had hurt himself playing golf (after a car accident) and couldn't make it to Bakersfield and 
Las Vegas, Rags was doing much more vocals than earlier and he did it great. It sounded really good. 



  Photo by Rich Baumann / Photo from meatwall.com


Tracklist: 8.00 p.m. - 9.19 p.m.
Journey From Mariabronn intro	vocals	Rags
Sparks Of The Tempest		B/S	g/v
Paradox				S/B/D	v
Belexes / Lightnings Hand	S/B/D	v
Opus Insert / Glimpse Of Home	S/B/D	v/g
Miracles Out Of Nowhere		B/S/D	v
Icarus				S/B/D	v/g
Wheels / On The Other Side	S/B/D	v
The Wall			S	v
Magnum Opus			S	v
Song For America		S/B/D	v
Point Of Know Return		S/B	v
Portrait (He Knew)		S/B	v/g

Encore: 9.21 p.m. - 9.33 p.m.
Dust In The Wind		S	v
Carry On Wayward Son		B/S/D	g

After the show Billy invited me up to his room for a drink. (Room 317) 
Billy showed me the Slamer CD (which I had in the mail when I got back home) and talked a little about 
how it had progressed. Some of the songs are from 2002 and when they were doing The Raging Fire, Billy 
actually "stole" a couple of songs that Slamer had written for his album. Billy now returned the favor 
by co-writing 4 songs for Slamers solo album, and they are actually among the best songs on the album. 

Then we went downstairs and met Billy's friends from Minnesota, that I met earlier. 
A guy in the bar even challenged Billy on a game of pool and Billy won after a few wonderful shots. 

I got a photo from Minnesota and a postcard signed for my cousin Lars. Even Rags signed the postcard. 
But sadly I only got one nice photo from the show. 


Actually when I talked to David, it turned up that he loves Loreena McKennitt as well, as I do.
  Photos Rich

After the show most fans ended up at the Kixx bar for karaoke, I'm not a fan of karaoke but some people 
actually did good on a couple of songs by my favorite bands Kansas and Journey. Grant did Separate Ways. 
 

Alex to the right (on the left photo), is wearing Rags 1995 outfit, that he bought at the auction. The day after I met Phil & Christine from kansasband.com and then we went to the Hard Rock Café.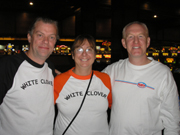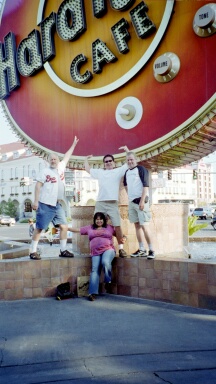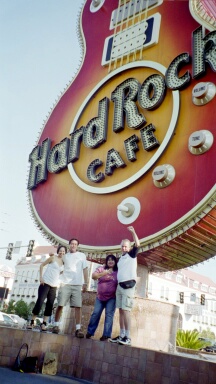 After that we went to New York New York to ride the Manhattan Express roller coaster. Just for fun we went to the Big Apple Bar to see Phoenix. More about that on my Jonathan Gilcrest page This is a review of the show. I hope that next time I see Kansas will be in Sweden in 2007, but preferably in some other place than Sweden Rock Festival. I Can Fly 2008 17 Jun Tradgar'n, Gothenburg, Sweden 2008 18 Jun KB, Malmo, Sweden (with A.C.T as support) The trip to Sweden came one year later than I had hoped, but my wish came true that they came to some other place than Sweden Rock Festival. My notes from these two concerts are misplaced but hopefully they will be found. It was great though to meet them all again. In Gothenburg I sat in the hotel bar with my girlfriend Azucena and Billy Greer. In Malmo we even stayed in the same hotel as Kansas so I was having breakfast with them. (picture) In Malmo I got a photo of Billy on stage when he saw me in the crowd. The great swedish band A.C.T was supporting in Malmo and they were out in the crowd to watch Kansas perform. The singer had to leave early though. 2011 11 Jun Sweden Rock Festival, Norje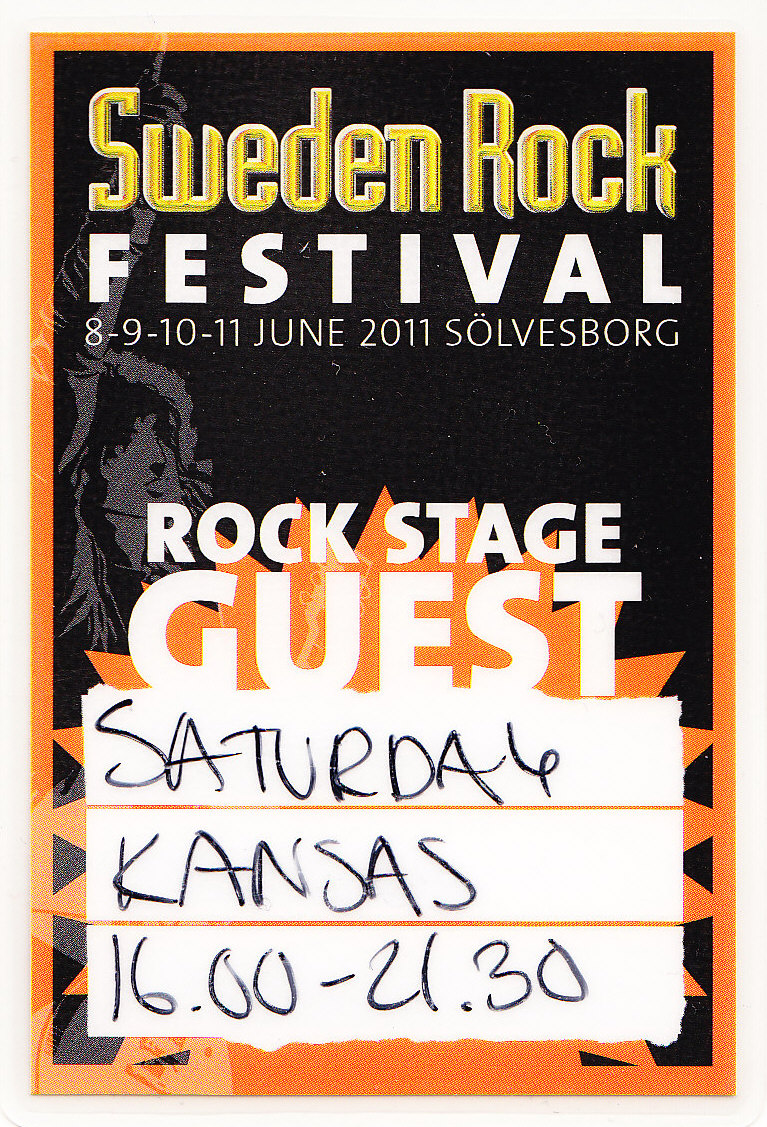 Photos by Patrik Wikstrom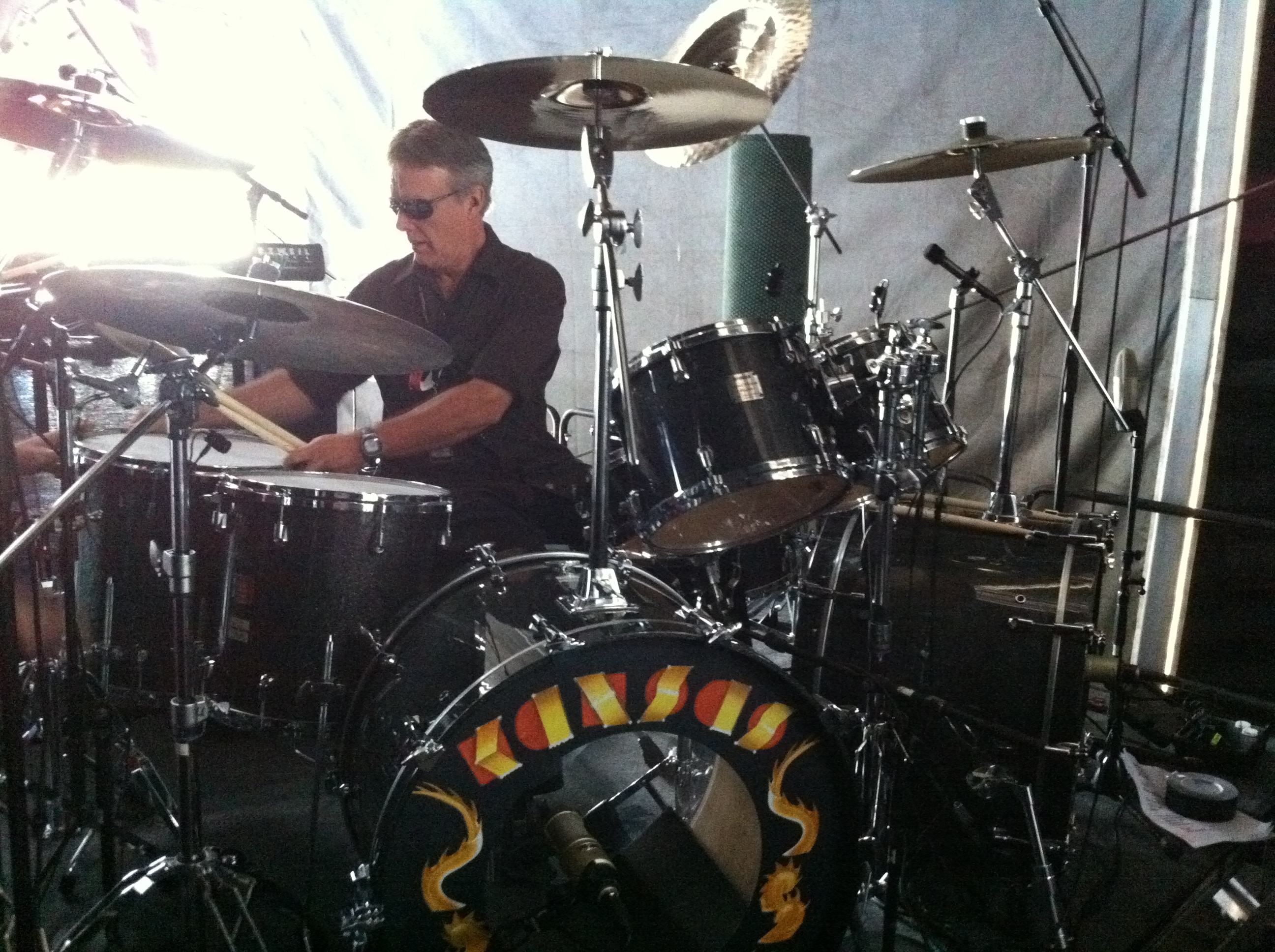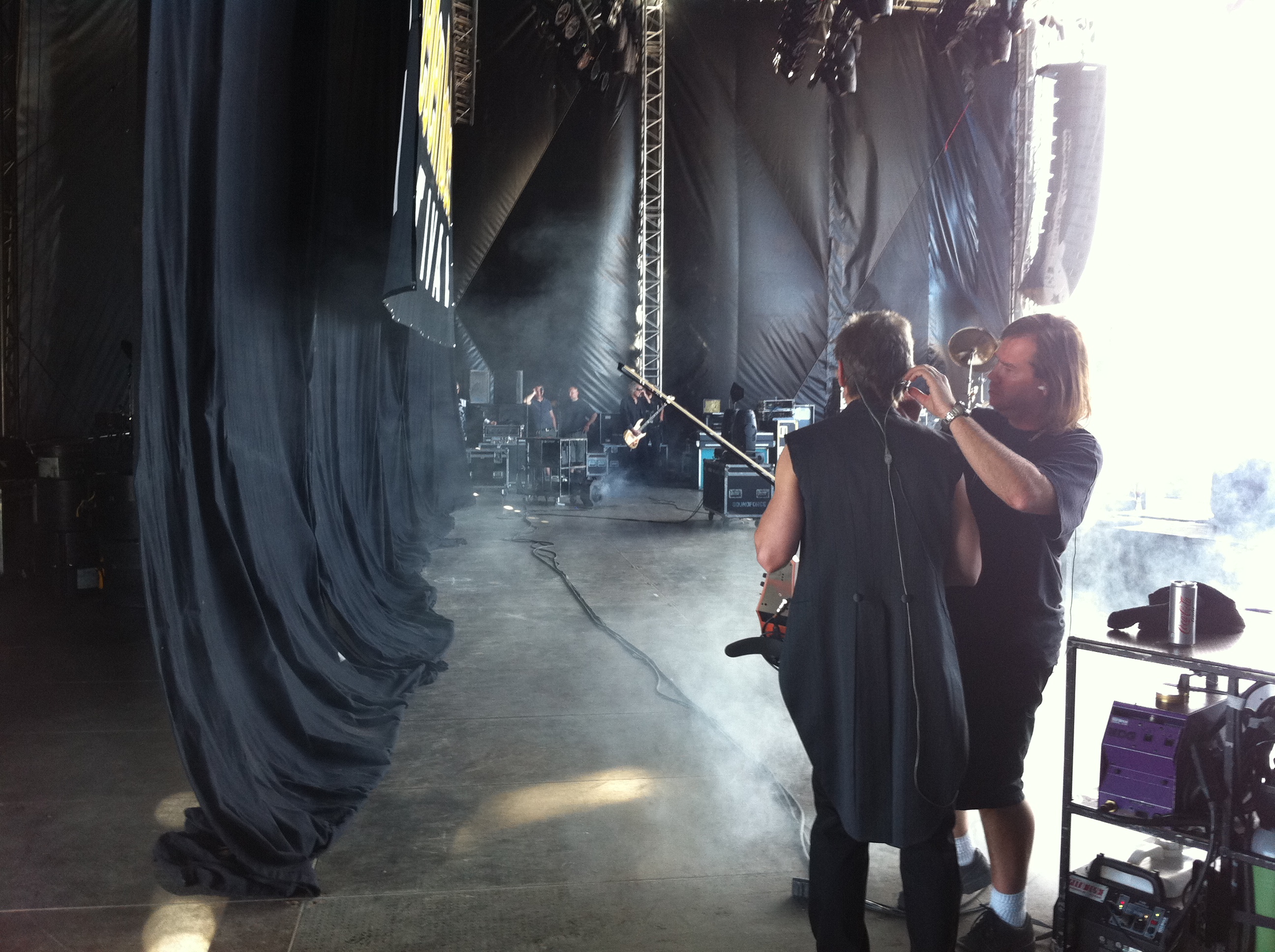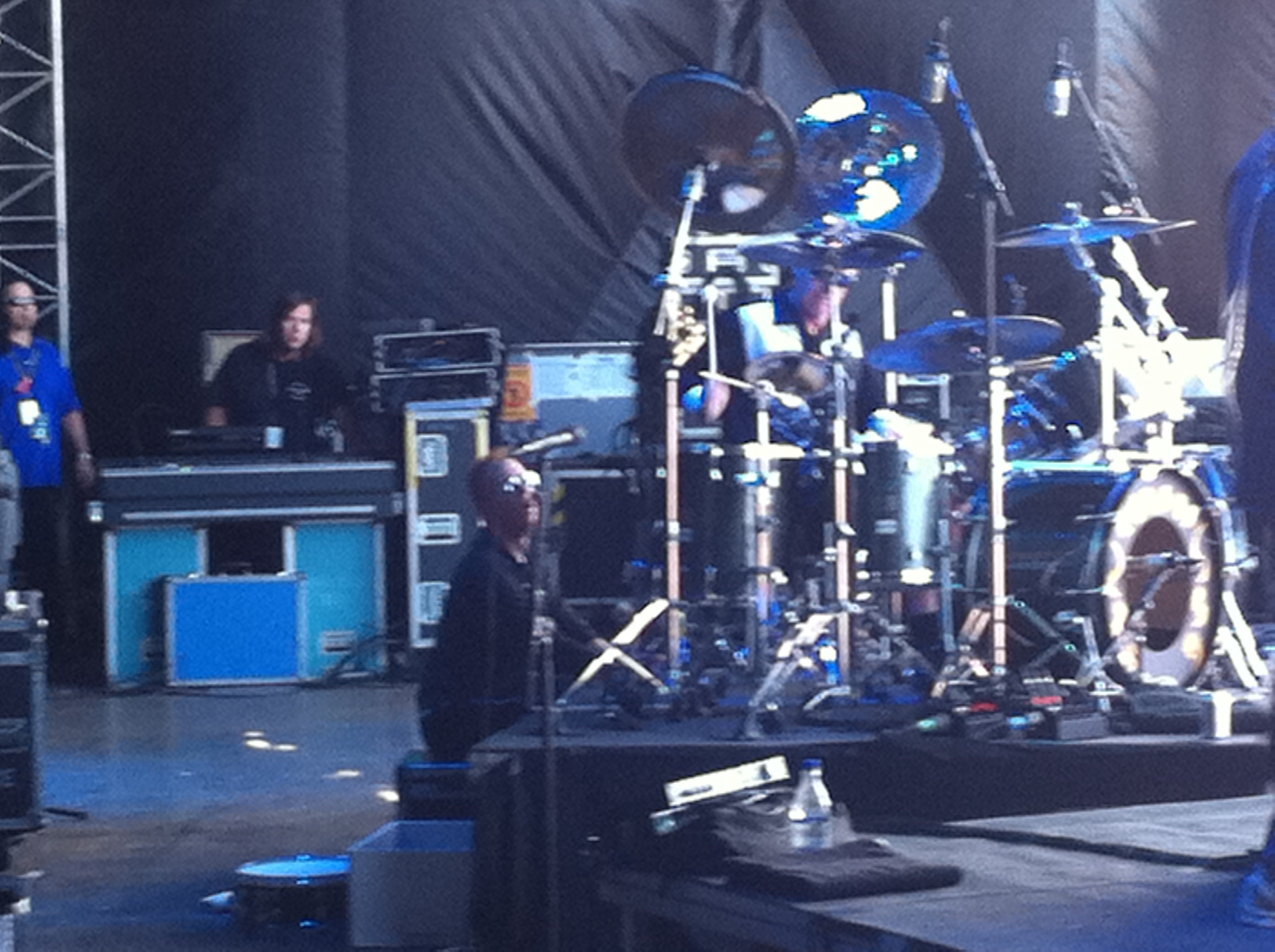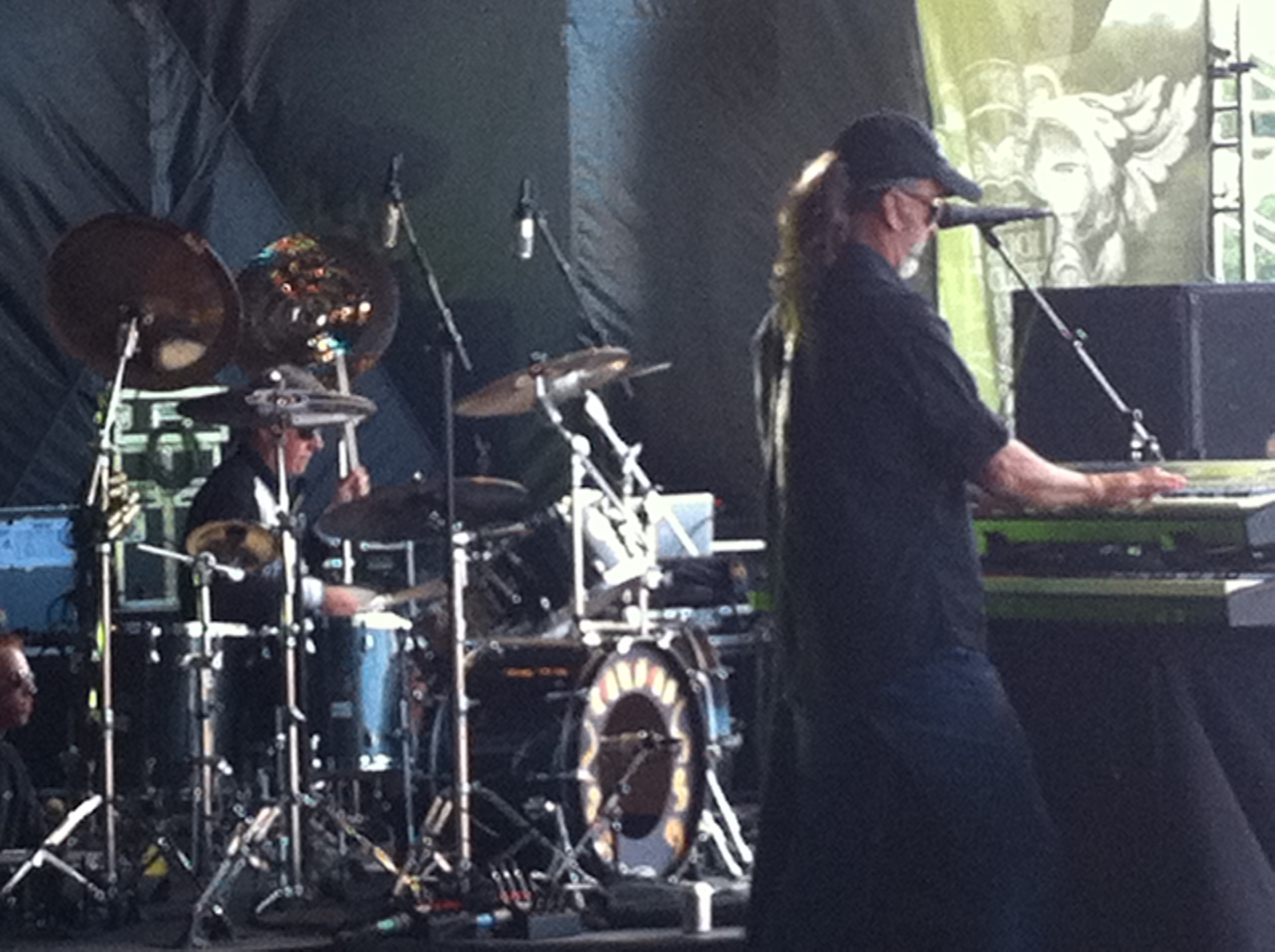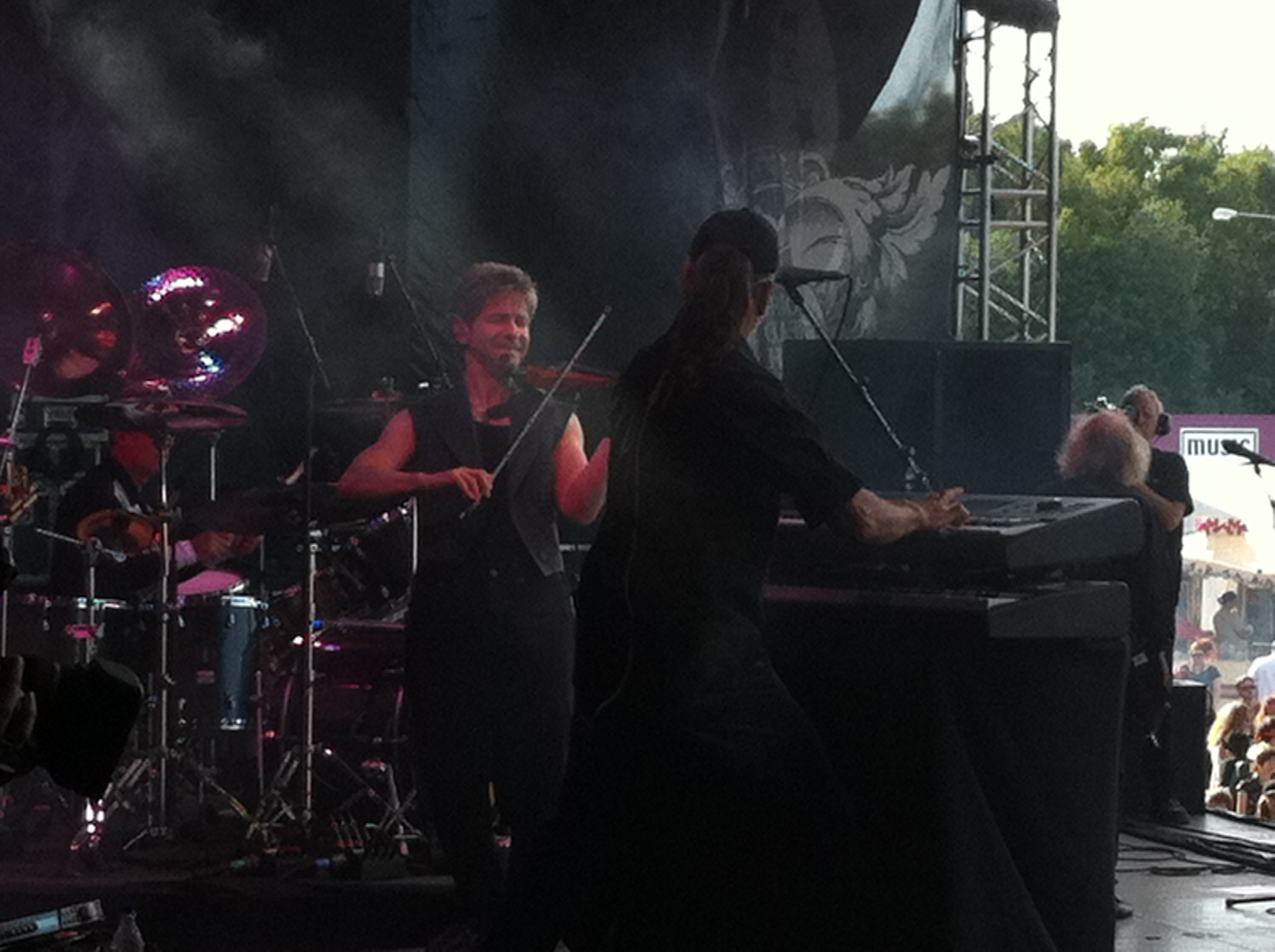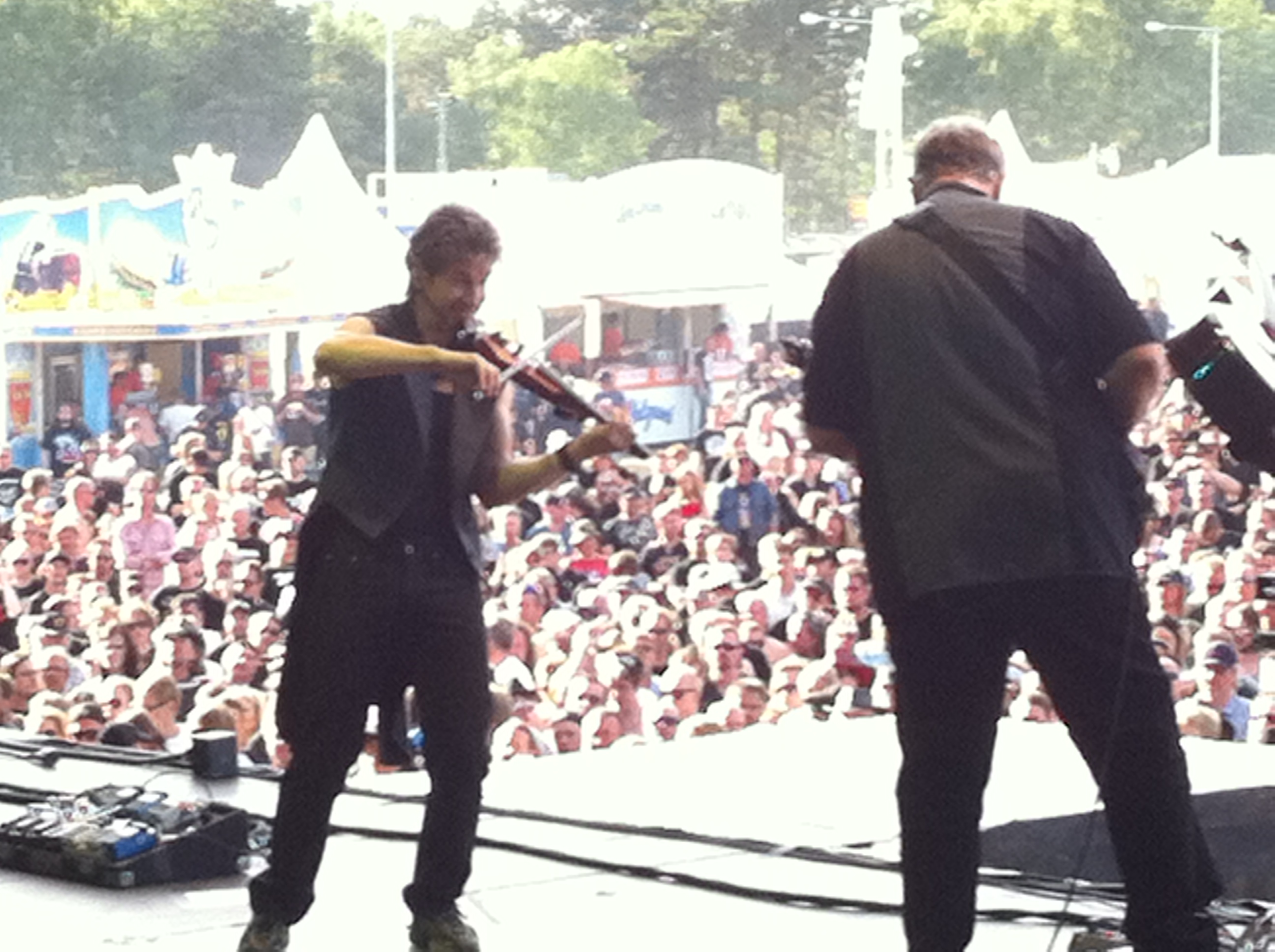 2011 saw the return of Kansas to Sweden Rock Festival. Billy called me from the hotel Christan IV in Kristianstad where they had stayed for a few hours of sleep after their early morning arrival to the airport in Copenhagen. He just wanted to tell me when they were coming to the festival. Eric and the crew had left for the festival already. Kansas arrived around 3.30 pm, just before Angel Witch and Styx was going on stage, so I had problems deciding what to do. And then Lee Aaron was still around backstage as well, which made it even harder. I went out to see most of Angel Witch show, and then I saw Styx a little while before seeing the rest of their show from the Rock stage where Kansas was going to play later. I talked mostly with Billy Greer, Steve Walsh, David Ragsdale and David Manion (Keyboards for 7K). And of course drum roadie Eric Holmquist and tourmanager David Green. Some sad news from Steve, I asked him about news of any new solo album, but he answered, "No, I'm done". On the other hand Billys Seventh Key project is coming along, but slowly.... David Manion said that he might put some keyboards on the Seventh Key album, but also that he might do some work with John Elefante soon. Tracklist: Magnum Opus Musicatto Belexes Point Of Know Return Song For America (Billy vocals) On The Other Side Hold On / Peaceful & Warm Dust In The Wind The Wall Cheyenne Anthem (Billy vocals) Miracles Out Of Nowhere (Billy vocals) Icarus - Borne On Wings Of Steel Portrait (He Knew) Encore: Fight Fire With Fire Carry On Wayward Son The highlight was Miracles Out Of Nowhere, with Billy on vocals. Great show, not one of the best Kansas shows I've seen but much better than 2005. Sadly they didn't play almost anything from Freaks of Nature or Somewhere To Elsewhere. My iPhone battery died during the show so I almost didn't get any photos at all. After the show I met half of Spock's Beard that was uplifted by the great performance of Kansas. I also met Lee Aaron, her guitarist, and Marco Mendoza and Scott Gorham from Thin Lizzy. Rating: 4 (They would get 5 if they play at least 2 songs from Freaks of Nature) This fall and early next year Kansas will play more symphony shows in the US, would love to be there then. © 2011 Patrik Wikström Send E-mail


Back To Main Music Menu