The Big Apple Bar at New York New York Hotel & Casino, Las Vegas, Sep 24, 2006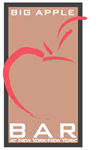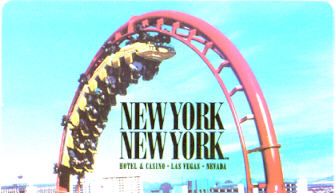 A tribute band is what I would call a band doing songs from just one bands material. A coverband on the other hand are doing material from lots of different bands. This trip to Las Vegas actually brought to my attention possibly the best coverband I have ever seen. Actually they were so good that I don't really want to use the label coverband since that doesn't sound that positive to my ears.
I came in to the Big Apple Bar just as Phoenix was finishing up their first set. It was a very nice place with the stage on top of the bar and the seats spread around in the shape of a half circle. It held up to 230 people but no more than 50 were there.

We decided to listen to a few songs in the next set before going on the roller coaster.

Already in the second song the keyboardplayer started to show off by tilting the keyboard while playing.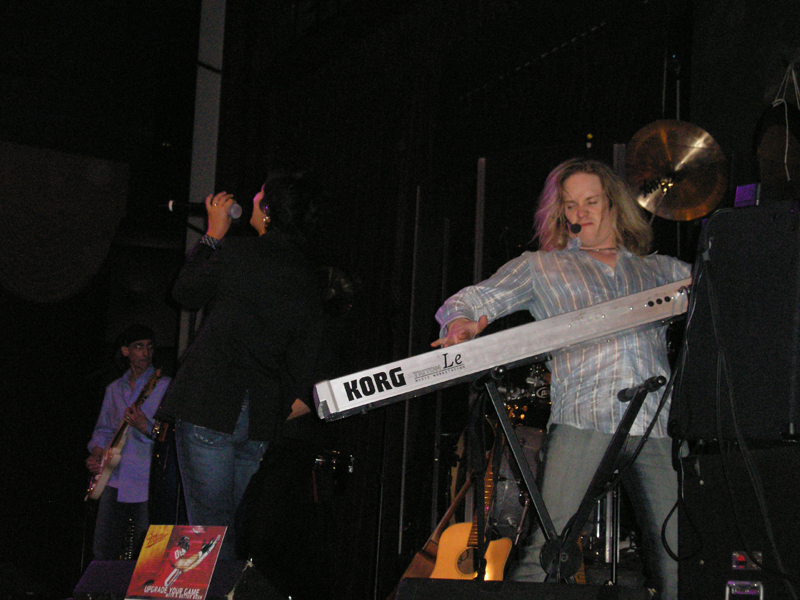 But when the third song was "Summer of '69" even I started thinking about leaving. THEN, they played "Point Of Know Return" and even though they couldn't match Kansas they got my full attention and I decided there and then that I wanted to hear both these remaining sets. No matter what. I didn't want to miss anything.
The vocalist Tony Davich looked a bit like Richard Gere and had a great voice.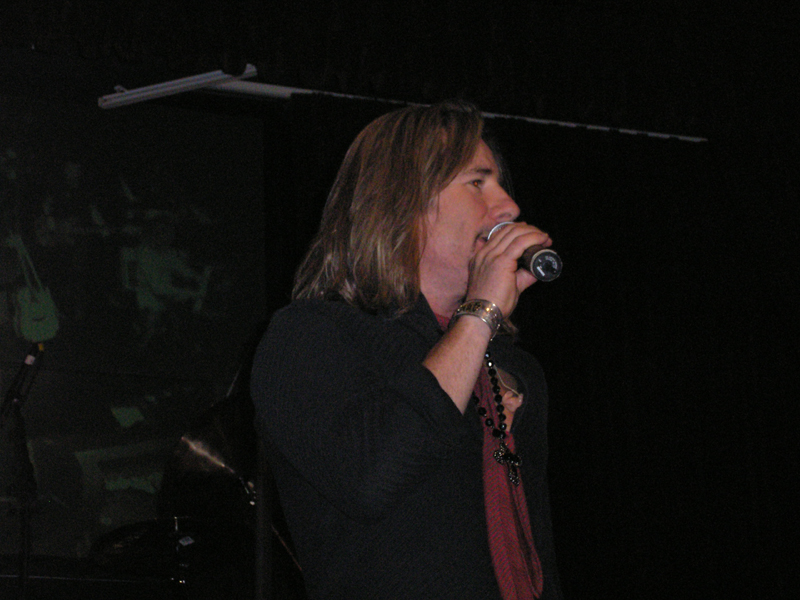 He started off OK and did a fine job on "Point Of Know Return" but it wasn't until they played Journey's "Don't Stop Believin'" that I started to see some real potential. AND, they actually had violin on it as well and it was superb.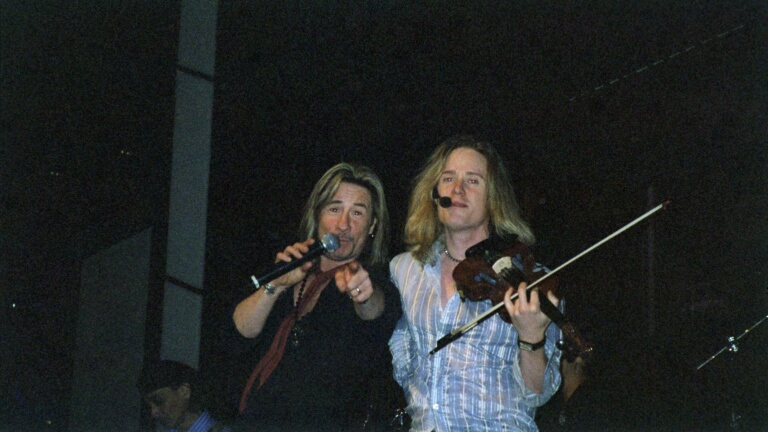 Danielle Bell did a great version of "Like The Way I Do" from the 1988 debut album by Melissa Etheridge. Then she sang a couple of songs that I don't like that much "Start Me Up", "Somebody To Love" by Grace Slick, "I Love Rock'n'Roll" and "Wild Thing". Maybe not the best choices but she is a very good vocalist.
On guitar they had Jimmy Crespo that was on the last two Aerosmith albums "Night In The Ruts" and "Rock In A Hard Place" 1979-1982 just before they broke up.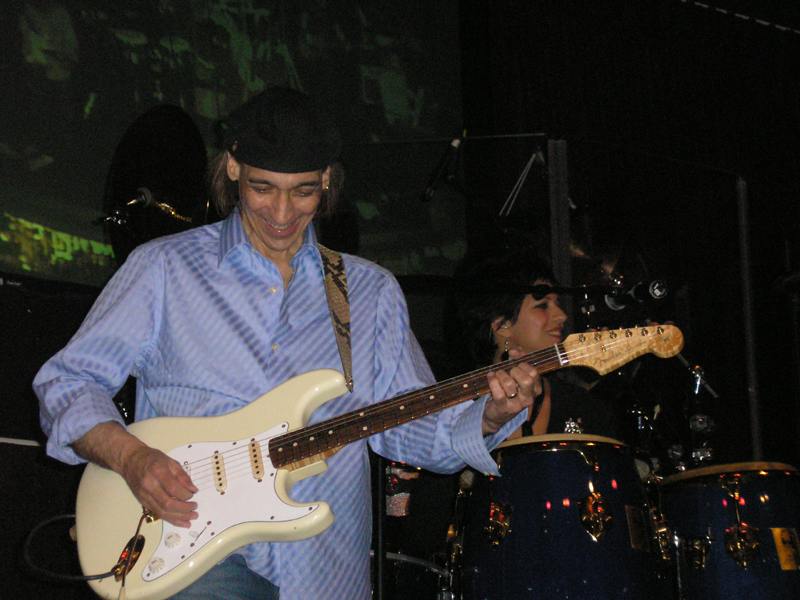 His first album was with Flame in 1976. He also recorded with Robert Fleischmann and Stevie Nicks. In 2003 he appeared on an album by Paul Shortino of Rough Cutt. Jimmy played well but actually I didn't see that much of him as he was on the other side of the stage compared to where I was sitting.
I was sitting just in front of the newcomer, Jonathan Gilcrest.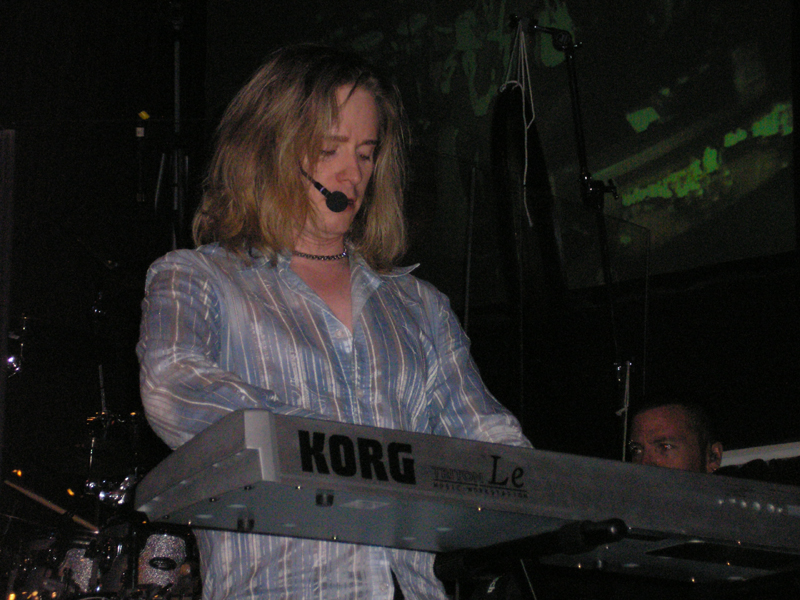 He debuted in Phoenix on April 20, after David Ragsdale went back to Kansas. Throw together an Ian Anderson type flute player, a David Ragsdale type violinist, a Gregg Giuffria showman type keyboardist and a Jake E Lee type guitarist and you know what I mean. Then Jonathan can sing and play bass and saxophone as well. This guy is amazing and so enjoyable to watch. He even made Jimmy Crespo look like a backup guitarist on some songs. Not on the closer of the second set "Sweet Emotion" by Aerosmith though. On that song Jimmy Crespo got to shine on guitar but Jonathan stole the show anyway by playing keyboards, violin and saxophone.
Since I had seen a flute on stage I went towards Jonathan before the third and last set to ask him if there would be a chance of them doing any Jethro Tull. But strangely before I had the chance to ask him, he said to me: "I hope you will stick around, we will be opening the next set with Jethro Tull". Do we have a telepathic thing going on here, or what ?
They did open with Locomotive Breath and Jonathan blew me away again by singing lead vocals as well as doing all the Ian Anderson moves. My photos didn't turn out that great though.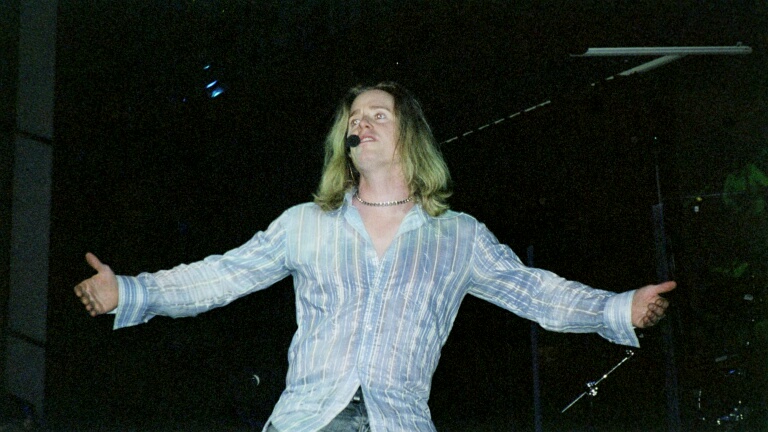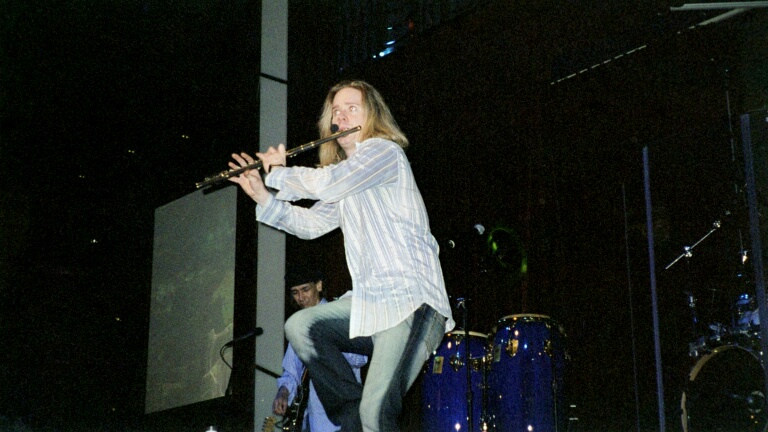 That great opening sort of shocked me so that I couldn't really appreciate the songs that followed. Tony and Danielle shared vocals for "Too Hot To Handle" and Eurythmics "Missionary Man" and they played a medley of songs by The Who of CSI fame. Tony and Danielle shared vocals for "The Flame" in the second set as well. Then Danielle sang lead vocals for a couple of songs.
It wasn't until solid bassplayer Tommy Paris, the former vocalist/guitarist for glamrockers Britny Fox turned over the bass to Jonathan and came to the front of the stage and handled lead vocals for three songs that I started waking up from the Locomotive Breath daze. Tommy sang "Black Dog" by Led Zeppelin, "We Will Rock You" by Queen and "Highway To Hell" by AC/DC. I am not a big fan of AC/DC but actually that album is my favorite. The best song of these were "We Will Rock You" with backup vocals by Tony & Jonathan.
The time was almost 8 o'clock when they did "Wild Thing" with Jonathan on flute as well as guitar and I realized it would soon be over. I was thinking that Jonathan had said something between sets about Boston but I had almost given up hope, and then he started "Foreplay/Long Time" on the keyboards. Actually the intro section "Foreplay" would have been worth the wait even if the rest of the set had been bad, even though it wasn't. Then during the following "Long Time" he switched to acoustic guitar and did that great as well. Even Tony was on a high. The Best Song of the set. Although I still like the Kansas and Journey songs better on album. Jonathan was jumping around and showing off and really enjoying himself. Cool.
Jamie Borden on drums were hidden away in the back but at least you could hear him. I don't know why they thought it was needed to do a drum solo before the last number but on the whole he was steady and did it great.
They ended the third and final set with "All Right Now", not one of my favorites. There were a couple of songs they could've done without but their best songs made up for it more than enough. This is a band that I would have liked to see in Europe on a regular basis but I imagine it will be very hard to keep up with the money they can make in Las Vegas, sadly.


Line-up:
Tony Davich (vocals, percussion) 
Danielle Bell (vocals, guitar, percussion) 
Jimmy Crespo (guitar, vocals) 
Jonathan Gilcrest (keys, violin, flute, guitar, vocals, bass, sax) 
Tommy Paris (keys, bass, vocals) 
Jamie Borden (drums)

Phoenix as of 2005 before Jonathan joined.
This photo may be from the 2005 Christmas Shows at Boulder Station