Doors opened at 14.00 and according to the poster the first band should be starting at 15.30.

Hartmann (approx 30 minutes)	Rating: 3+

Life was there ???
Out In The Cold
Reach ??? (ballad) reach a falling star
I knew ???
What If I
How Long
... ... rock ???
Listen To Your Heart 


But at 14.40 Hartmann took the stage, and did quite good. I didn't have a watch and the timeschedule was not kept so I have no exact times for the rest of the festival. Since I hadn't heard them before I had difficulties in catching any particular songs. Then he spoke in german between songs so that didn't help me much either. I could appreciate his vocals though, very good but the songs didn't give me much.
Photos by Miriam Guigueno


Pump (35 min)

Photos by Miriam Guigueno
Never went to see them, I heard them but realized it was nothing for me. Too loud as well. During Pump I met Alex Kruse, Michael Müller and Johan Fahlberg of Jaded Heart. Really nice guys, Barish was not there, he had injured his hand so they had called a guitarist from France that was in a Death Metal band called Maladaptive.


Blanc Faces (35 min)		Rating: 3


Had heard much good about Blanc Faces, but I only had the single 'Edge Of The World' myself. Not bad, but not great. Everything sounded average for me. Nothing special and rather boring.

Tracklisting:
Here's To You
We'll Make The Best Of It
Staying Lower
Turn This World Around
Edge Of The World
We Will Rise
Drum Solo Jonathan Mover !!!!
We're An American Band (by Grand Funk Railroad)


Highlight: Edge Of The World (might be because that was the only song I had heard before)
Line-up: Robbie La Blanc (Vocals, Rhythm Guitar), Brian La Blanc (Bass, Background Vocals), Butch Taylor (Lead Guitar), Jeff Batter ? (Keyboards), Jonathan Mover (Drums)
Photos by Miriam Guigueno

Talked with Butch, the guitarist of Blanc Faces after the show and IT WAS Jonathan Mover on drums. Got to meet him afterwards. Jon had met Blanc Faces for the first time, just two weeks ago. He was glad to sign my GTR CD-cover that I had brought to get Geoff Downes signature. Never thought I was gonna get Jonathan Mover's as well. Jon told me that he had heard that Max Bacon was a milkman and had given up singing, what a waste. He hated the mix on the GTR KBFH release, "the drums are too loud". He left GTR before they started on GTR 2, to play with Satriani, which he did for 10 years.


Casanova (45 min)

German party/glam/metal. Fun to watch (maybe), listened to them for two songs, nothing for me.
Photos by Miriam Guigueno
Went backstage for a Carlsberg instead. Saw Hartmann and Blanc Faces there.

Later Jim Peterik & Toby Hitchcock arrived to do an interview. While waiting for the interview to end, Billy Greer arrived after a rest at the hotel. This was actually the seventh time I met Billy Greer, what a coincidence, seventh time, seventh key. It was only 20??? hours since he finished a concert with Kansas in Houston, Texas. The rest of Seventh Key also arrived, together with Mike Parks (check the thankslist on Streets 1st album)

Then Jim Peterik came over and after he heard of Billy's recent show with Kansas, he told Billy to remember not to sing Dust In The Wind. Later I heard from Jim that Jimi and Frankie still goes on with Survivor together. Actually I saw Jimi's Survivor at the same festival as Kansas in Mexico in 1993, but at that time Jim was in another version of Survivor, which he abandoned in 1996.


Jaded Heart (50 min)		Rating: 4+


Then I went down to see Jaded Heart. I told Johan before the show that I never really liked Scudiero and that I love Michael Bormann's voice, but I promised him to give them a chance and really listen to them. Because of the above mentioned meeting with Seventh Key and Pride Of Lions I happened to miss the first two songs (new ones) and the first half of Live And Let Die (sadly). It felt strange that neither Bormann, Kepic or Ivo was there, who wrote all songs on my favorite Jaded Heart album "IV".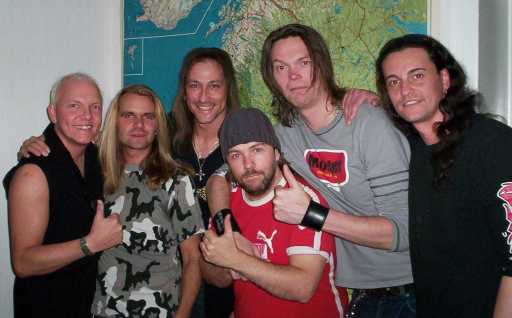 The new line-up together with Tommy Denander photo from www.jadedheart.de
My two biggest fears before this festival was that Johan was going to destroy Jaded Heart and that Seventh Key would look rather insecure on stage. NONE of this happened. The show was great. Johan's voice fell on him a couple of times during "Journey Will Never End", but it was his first gig with Jaded Heart so I have decided not to give him a hard time, I'll give him credit instead. He did a fine job, and it will only get better when they get more songs that are written for Johan's voice. I will never say he's a better singer than Bormann but he does work for Jaded Heart. Actually Johan had one big problem, his length was clearly dangerous because of the low ceiling over the stage. But on the last song, Feels Like Home, he used that and took a swing in it instead. That's initiative. I must mention Michael's bass as well, very good looking, with lights all over the neck, beautiful.

Tracklist:
Tomorrow Comes (New)
Somewhere (New)
Live And Let Die
Inside Out
Dreams You'll Never See (New)
Journey Will Never End
Paid My Dues (New)
Shores Of Paradise (New)
Anymore
Feels Like Home


Highlight: Anymore, great song, and the power of it worked well even with Johan's voice.
Later I ran into the guys from Jaded Heart many times, and Axel had switched to a Journey 2005 T-shirt, good taste as well. And finally I met Henning and their french guitarist as well. All the guys were very friendly. By the way, Henning was on a US-tour with Tramp's White Lion earlier this year.
Line-up: Michael Müller (Guitar), Axel Kruse (Drums), Henning Wanner (Keyboards), Johan Fahlberg (Vocals), Frederic Leclercq (Guitar)
Photos by Miriam Guigueno

Jaded Heart Online
The Jaded Heart Fan Page
Scudiero Official Homepage
Maladaptive Official Website


Legs Diamond (55 min)

Only saw them for two songs, didn't give me much. Talked with the guitarist before the show.
Photos by Miriam Guigueno

Legs Diamond - Official Website



Instead I went backstage and met Geoff Downes, I asked if he had brought Jonathan Mover there, but he hadn't. He hadn't actually met Jonathan in a couple of years and was as surprised as me to see him there. He confirmed that Max Bacon had been a milkman, but he had appearantly moved to Spain now. I told Geoff that his song "The Hunter", on the GTR album, was one of my all-time favorites. Geoff said that he had actually written that song with Max Bacon in mind. They didn't know each other at first, they had got together through their record company.


Seventh Key (55 min)		Rating: 5


7K ROCKED, they moved around and seemed to enjoy themselves more than any band on the festival, with the exception of Casanova, but Casanova did it in lack of talent, or to hide the lack of talent.

I have a couple of Top 10-lists on my webpage. Seventh Key was on three of them, but now they're only on two. I have the first Seventh Key album on third place of Best Debut Albums of all time. Of course both Seventh Key albums are in the Top 3 Kansas sideprojects (together with Streets 1st). Then up until now they held the first spot on the list of artist/bands that I hadn't seen live. Now I can take them out of that list. Instead they climbed in to spot 38 on my Top 50 Concerts.

This Seventh Key show leaves me somewhat troubled. Don't get me wrong, I simply love Kansas. They are in the top 3 of my favorite bands of all time and Seventh Key has a long way up there. No band with less than 5-6 great albums can get up there.

BUT as alive as Seventh Key were in Ludwigsburg, Kansas haven't been since 1995's Freaks Of Nature and the 1998 Always Never The Same Orchestral Tour.

AND I do love Steve Walsh's voice, I am not one of those that have been picking on him the last decade or so as many others have. I have seen Kansas 7 times during the last 12 years and Walsh have been great or even better than great every time.

BUT, here comes the punchline: If I have to choose between a new Kansas album and a new Seventh Key album (and I don't want to) I would choose Seventh Key. I think the two Seventh Key albums are better than both new solo albums by Steve Walsh and just as good as Kansas Somewhere To Elsewhere. This concert makes it evident that the band with the biggest potential is Seventh Key.

And consider this, THIS WAS ONLY THEIR SECOND LIVE GIG!!! It can only get better. Even songs that weren't among my favorites on the albums like "Only The Brave" and "You Cross The Line", were excellent live.

Sadly the bass was way too loud and the lighting guy must have slept or something because there was no spotlight on Billy for the whole show, but that didn't matter, or to put it as Billy did: "I didn't need any spotlight, I sparkled from within".

It was so fun to see all five members really enjoying themselves. Starting with Billy, it was fun to see him moving around more than with Kansas. The last show with Billy's old band QB1 was at the Agora Ballroom in Atlanta in 1980 which means that it was 25 years ago since Billy was singing lead for a whole concert. Considering that, Billy's vocals were simply great. And not anywhere did he play it safe. And the heavy basslines was felt through the whole building (but as I said before, a bit too loud) I had actually thought that Billy would be a little inhibited by singing lead and playing bass, but he glowed and did a superb job, both on bass, vocals and then moving around as well.

Then Mike, first concert for a live (paying) audience in 21 !!! years, AND IT DIDN'T SHOW !!! Great. I stood very close and I believe he was smiling all the way through, he loved it. He'll do this again for sure.

Then Terry, sadly I must confess that I haven't given Terry's own projects much time. Almost never listened to Strangeways, only bits and pieces of the second album by The Sign, but of course I have the first, with Billy on bass. He surprised me by singing lead on Dr. Love from the debut album by Slamer's Steelhouse Lane. Very good as well, but mainly I liked him for his energy on stage and his backing vocals that really lifted the whole show.

Then David, as by a funny coincidence I heard that David was a combined lighting tech/keyboard tech for Kansas back in the early 90's so I must have met him at the airport in Cancun, Mexico in 1993 when Billy was presenting me for the members of the band and crew. I also heard that "Missy" (on the 7K debut), was actually written all the way back in the 80's. Back to the show, seeing David on stage made me think of a guy that almost lives on stage, playing live all the time, a real party animal. But appearantly he doesn't even have a live act (or at least up until now). David is at the moment putting together a solo instrumental project called Level 5. I'll be looking out for that. Excellent keyboardplayer and fun to watch. Earlier he have done some studio work with various artists, including Trent Gardner with Magellan.

Last but not least, or in my case, he actually were the one I knew least about. Pat was not playing this show, so instead Kerry Denton, that has been touring with Mother's Finest, had stepped in. I don't know what to say, I'm repeating myself, with great, excellent and so on. I'm starting to run out of good words to use. Solid is a good word, for a drummer, so I'll use that.

Seventh Key simply blew me away. If you missed this show, you missed something special, but you will get more chances. I promise you, this is just the beginning. One sad point, this might just be the beginning of the end for Kansas, but time will tell, I won't dwell upon that now, I have a 7K DVD to look forward too, ... and a third album !!!

Thanks to Billy, Mike, Terry, David and Kerry You guys made my day (and my trip).

And yes, The sun will most certainly rise.

Tracklist:
The Sun Will Rise		
An Ocean Away		
Only The Brave
Always From The Heart
You Cross The Line
Sin City
Winds Of War
Dr. Love (Steelhouse Lane)	Written by Mike Slamer & Mark Baker
Kid Could Play

Encore:
Cold Hearted Woman (Streets)	Written by Marty Conn


Highlight: You Cross The Line, now that song is among my favorites

Line-up: Billy Greer (Lead Vocals, Bass), Mike Slamer (Guitar), Terry Brock (Guitar, Vocals), David Manion (Keyboards), Kerry Denton (Drums)
Photos by Miriam Guigueno

BillyGreer.com
Seventh Key Fan Page
Patriks Kansas Page


Wetton/Downes (55 min)


Tracklist:
Let Me Go
Only Time Will Tell
Go
Meet Me At Midnight
Smile Has Left Your Eyes
I Lay Down
Voice Of America
Don't Cry
Open Your Eyes
Sole Survivor
Heat Of The Moment

Photos by Miriam Guigueno

Geoff Downes.com
JohnWetton.com


After Seventh Key I went backstage and met JH's (temporary) guitarist Frederic Leclercq and heard that his new death metal band Maladaptive had just recorded a demo with Joey Vera from Anthrax. I never realized if he meant Joey Vera from Armored Saint or Joey Belladonna from Anthrax, but after checking their website, I noticed it was Joey Vera from Armored Saint.
See Maladaptive Official Website

Then the guys from Seventh Key showed up, we started eating, more people showed up, and suddenly I realized that I had missed the Wetton/Downes show completely. Later I heard that they only played 2-3 songs from Icon, and the rest was Asia, so I'm not that sad about missing it. Michael Müller from Jaded Heart also came and wanted to have a picture taken with Billy Greer and their Dean basses. He looked very satisfied when it was done.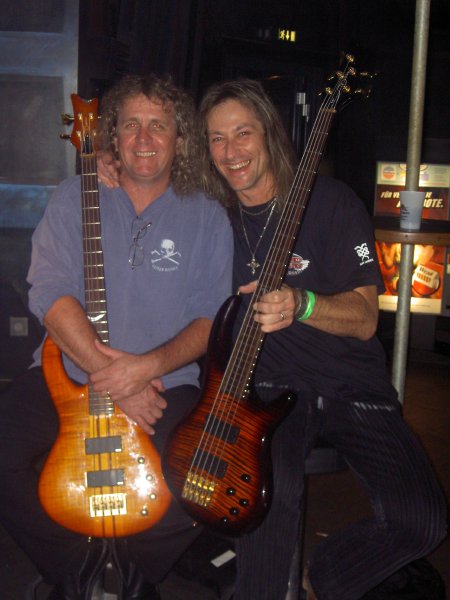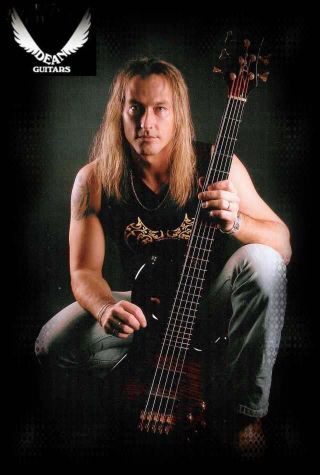 photos from www.jadedheart.de Thanks Muelli
Before going down to see Pride Of Lions, I had to say goodbye to the guys in Seventh Key. I gave Billy one of my Hitchcock-books and David promised me to look for a funny picture that he took in Cancun at the festival in 1993, that I wanted for my webpage.


Pride Of Lions (70 min)		Rating: 4


I missed the first song (but Jörgen Holmstedt told me it was It's Criminal). Almost everyone I have talked to (about PoL) have raised Toby Hitchcock to the skies. I realize he is good on the albums but at this show it was way too much oh, yeah and wailings for me. I hate that. In that way he completely destroyed Eye Of The Tiger. Actually it was almost only on the two songs in the encore that he just sang, and then it was excellent.

For Peterik on the other hand I have no complains, except maybe that he played too many Survivor songs. 5 Survivor songs and 7 songs by Pride Of Lions makes you wonder what he wants to do with this project. Then he also played his first hit song from 1970 when he was just 19 and member of the Chicago based band Ides Of March. Appearantly that song was performed on American Idol this year as well.



On a funny note: the "other" keyboardplayer Christian Cullen started on Sound Of Home one song too early. Then Peterik presented Oceans like this: "It starts with an 'O' and it's not Oh, shit. We haven't rehearsed this, so don't laugh"
And when presenting Burning Heart he said: "I know you people remember the song we did for Rocky III, I won't even say the name for that one, but how many remember the song we did for Rocky IV". That made me think that they wouldn't play Eye Of The Tiger and that would have been a great surprise. But then they did anyway.
According to the timeschedule they were supposed to end at 0.30, but the time became over 2 o'clock.

Tracklist:
It's Criminal
Gone
Unbreakable
Man Behind The Mask
Music And Me
I Can't Hold Back (by Survivor)
What Kind Of Fool
Sound Of Home
Vehicle (by Ides Of March)
Burning Heart (by Survivor, from Rocky IV)
Oceans (by Survivor)
Black Ribbons (written for those who survived the Madrid bombings)
Eye Of The Tiger (by Survivor, from Rocky III)

Encore:
The Search Is Over (by Survivor)
Heavy Metal (Co-written with Sammy Hagar for the movie)

Highlights: The Search Is Over & Heavy Metal (see reason above)


Line-up: Jim Peterik (Keyboard, Guitar, Vocals), Toby Hitchcock (Vocals) Mike Aquino (Guitar), Christian Cullen (Keyboard), Klem Hayes (Bass), Ed Breckenfield ? (Drums)
Photos by Miriam Guigueno

Pride Of Lions - The Destiny Stone
Jim Peterik.com


Magazines:
Rock It! Das AOR Hard Rock Metal Magazin
RockReport.be

Pictures:
www.rock-pictures.de